So we finally settled on a name for our boat…Viatori. It means traveller in Latin. Richard and I did a lot of research and had a few discussions about naming our boat. In the cruising world, you rely heavily on the name of your boat. You use it whenever you call out on the radio and you have to say it three times in a row, Viatori, Viatori, Viatori calling whoever, whoever, whoever. You also become known as your boat name. We will no longer be Richard and Leah Winkel. No one remembers first names, they may recall your last name, but everyone gets called by their boat name. You pull up into the anchorage and are walking along the dock, "Hey, Viatori, how are you doing, where have you been, what's the wind been like?"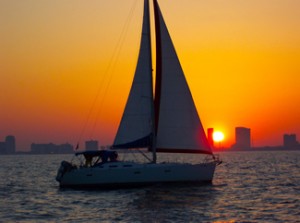 Our boat does currently have a name,  O' Naturale, but Richard and I decided that we should pick something ourselves to make this Beneteau our own. Choosing a name and then agreeing on a name was not easy. I was sold on Carpe Diem. It means seize the day and the more resaerch and reading I did on the history of the phrase and how and why it was used, the more I liked it. Do you know how many boats are names Carpe Diem? Hundreds! We are registering our boat out of Edmonton so it is necessary to find an original boat name from Edmonton. There are several Carpe Diem's, Carpe Diem I and II's already registered, so that one was out.
Then we stumbled upon Vita Brevis, which means "life is short." We thought it was very fitting. Richard and I both liked the name and were even trying to teach the proper pronunciation to the boys so they could say it correctly. It turns out someone else thought this was a great name as well and there is another boat registered out of Edmonton with that name. We could have still used the name if we had tacked on a number at the end, maybe the number V, as there are five of us?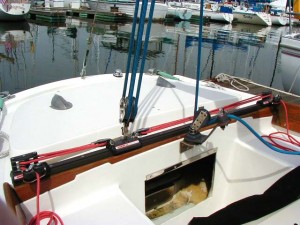 So, after some more looking, Richard discovered Viatori. As I said, it means traveler or wayfarer, especially one who travels to distant lands.  Traveler also has a nautical meaning, as it is the name of a part of the ship's rigging that moves the main sheet attachment point. Both of those definitions have significance for us so we thought it fitting. Also, it is a unique name for Edmonton! So there you go, we are setting sail in January on a Beneteau 393 called Viatori!