They say the most dangerous thing on a boat is a calendar. This is because a calendar can force a sailor to head out to sea when he/she wouldn't generally go. Thankfully we didn't have to do that…
My Mom and Dad are flying to Eleuthera Island in a few days and we are so excited to see them! That being said we have spent the last month planning and plotting our path to get to Eleuthera. I can't remember how we picked Eleuthera but it is definitely off the beaten path for most cruisers who generally go to the Exumas as fast as possible. Everyone we have met are heading to the Exumas or have been there and loved it. After Eleuthera this is our plan.
In Bimini, we met John and Pat on the boat New Moon. They have a 42 foot Mantas catamaran which was very nice inside and were heading to the Abacos which seems to be the other major cruising ground in the Bahamas. Generally, people who are on the way to the Exumas or on the way back will go there and then take a multi-day passage back to the northern east coast states. John had been to the Exumas and they had decided that they were skipping them in favour of the Abacos this time. Their plan was to leave mid day and sail to a place called Mackie Shoals half way between Bimini and Great Harbour Cay (the largest island in the Berry Islands). They were going to anchor out on the Bahama Banks, which is a 70 mile wide shelf where the water doesn't get much deeper than 15 feet, and we were going to sail with them.
However the evening before their departure we decided to stay one more day in Bimini as the wind was blowing over 15knots and we would have to beat into it the whole way, where as the following day the wind would moderate. John left anyway and we hoped to see them again in Bullock's harbour on Great Harbour Cay. Aside from avoiding a more windy passage and a potential rough night at anchor we also like to minimize the number of travel days we have, preferring one long travel day to two shorter ones. Maybe this will change as we get more experienced.
We left and headed north around Bimini and directly to Great Harbour Cay. The wind was light and we motor sailed for most of the day. Everyone had a pretty good day. I finished a book, Leah read and the boys watched movies. Our trip was about 80 nautical miles which is a 12-13 hour day for us. With the sunset at 6:00 we hoped that we would be able to enter the harbour during the day and anchor before blackness. But we didn't quite make it fortunately the entrance to Great Harbour is pretty wide and marked with two posts in the water, one of which was missing. Following the lights of a cell tower, John's anchor light and the GPS we made in without incident. We anchored about 0.5 mile from John and went to sleep.

The next morning, John came over for a coffee and we traded plans. He had some engine issues and needed to get a move on so we parted ways. About an hour after he pulled anchor we did too as we had decided to circle the island and anchor in the "East Bight" of Great Harbour Cay. This would cut about 25 miles off of our crossing from Great Harbour to Eleuthera and the bight was supposed to be really good anchorage. John had commented that the north side of the island is where cruise ships go to multiply and we know what he means. We passed between one ship and the shore which was really cool as they are huge and it felt like we were really close to it. There were little tenders taking loads of people from the ship to the private resorts for the day. John was right, the whole time we were in the vicinity of Great Harbour Cay we would see cruise ships coming and going from the island. We would also see them off and on all day on the way to Eleuthera, including a Disney cruise ship that was sitting stationary between the islands.
The East Bight was a beautiful protected semi-circular basin with a wide entry and the most amazing beach. After setting the anchor twice we dinghy-ed out to the beach. This beach was so amazing we chose to stay there an extra day. In the morning, James, Matthew and I took the dinghy to shore and attempted to sneak across someone's property to the road where we planned to walk about a mile to a marina where we could check the weather. Our sneak was going great until Matthew got a bunch of prickle balls stuck to his ankle and understandably cried out in pain directly under the house on stilts. For those of you that have not witnessed Matthew when he is hurt, he is a very spirited crier and this was no exception.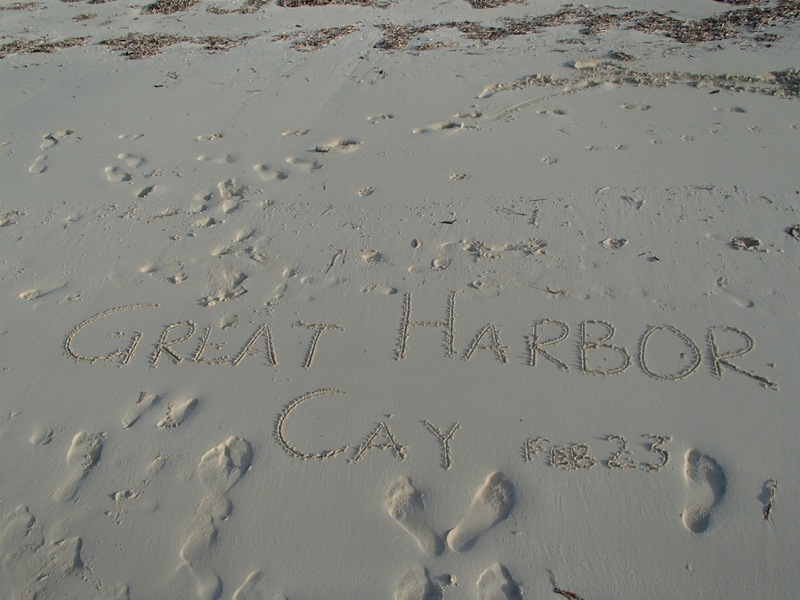 I pulled the prickles and we walked toward the road, only to meet the owner as he came down the front stairs. His name was Peter and he offered to drive us to the Marina and back. Awesome. The marina was beautiful and the water glass. We got the weather and a ride back to the beach. Peter is from Miami and he said the island is very undeveloped with a very low population… a great place for peace and quiet. Once we got back we loaded up the dinghy and headed to the beach, I was a little nervous leaving the boat as we are still getting used to the whole anchoring out thing and the anchor wasn't as dug in as I would like.
The beach was better than the previous day and the boys played, Leah waded for sand dollars and shells and read on the beach. After a couple hours we headed back to the boat and had showers on the sugar scoop (back step). I tied up the dinghy and prepared the boat for heading out to sea again.
I was woken up at 5:00 and could not get to sleep again the next day. After about 1.5 hours I had enough got up and started the departure preparations. Leah came on deck and helmed while I managed the anchor. We headed toward Eleuthera and motored all day to get there. At about 4:00 we entered Spanish Wells, a settlement on the north side of the island we tied up to a dock and had declared victory. We had made it to Eleuthera with days to spare! As a side note we also had made it with any new scratches or major stress incidents during our trip.