Just 8 nautical miles from Staniel Key is Black Settlement on the North end of Great Guana Cay. A large portion of the economy of the town is driven by catering to cruisers. The harbor has good holding, no current and is exposed to frontal weather, but no fronts were in the forecast for a while. One of the main draws is the free water and cheap garbage disposal, both things that can be expensive in the islands. The town also boasts an awesome laundry facility right on the water, wifi, a few good restaurants, fresh baked bread and reasonable grocery stores.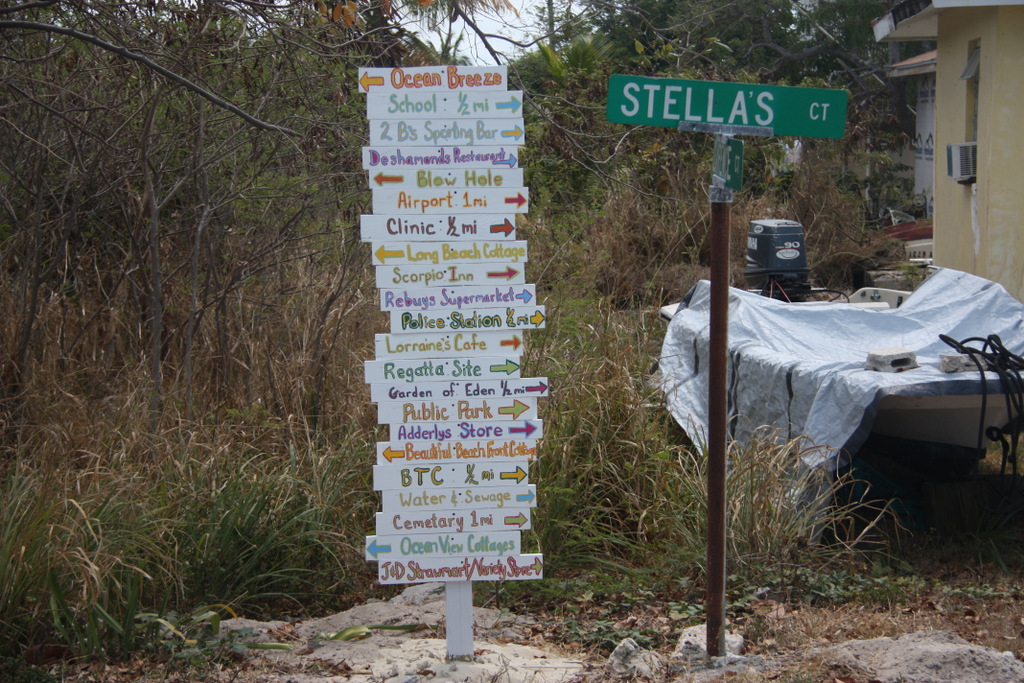 We headed to Black Settlement ahead of Celebration, Family Business and Spunky to take in a buffet put on by Lorraine at Lorraine's Cafe. After we pulled anchor and motored out of the anchorage we sailed 2 miles offshore to round a sand bar and then 6 miles to the settlement. The first two miles the waves were coming from slightly aft of the beam of the boat, meaning that every minute or so a wave would make the boat roll. Leah and the boys were doing school and occasional rolls were a distraction. Once we rounded the point, it was a close reach into the harbor and boat settled down considerably. We anchored twice, once in a spot that was a little too shallow and then in a better spot 100 feet further offshore, across from Ida's Laundry.
We headed to the buffet to find the entire restaurant packed with the only tables available outside, this was a blessing and a curse. Inside the restaurant it was very hot, but the wind made the outside tables quite cool. Once we moved the tables around the side of the building it was tolerable. There were two other groups that ended up outside, a french group and a family from the boat Shamballa. This turned out to be awesome as they have an 8 year old daughter, Samantha and 5 year son, Nicholas. The food was great and plentiful for us as we got to go first – kid trump card. This buffet is not all you can eat, but a once through so we packed our plates to make sure we had enough. Stacy and Paul from Shamballa have been cruising for over a year now and were a great pair to chat with. They were heading to Georgetown the next day so we would have to catch up with them later. After the buffet the tide had fallen and it was pitch black. The boys were a little scared as we climbed into the dinghy while it bucked with the chop in the bay. Our trip to the boat though was relatively uneventful, thankfully.
The next few days were occupied with filling the water tanks on the boat, buying some groceries and getting a months worth of laundry done. I conscripted James and Matthew to help with the water which they did quite reluctantly. We made five trips from the tap in town to the boat to get the tanks full. Leah and Ethan got the laundry completed and did groceries between loads. In all our time there, including after two mail boats there was never any milk in town which was disappointing.
A couple of boats we had met in Bimini, Baccaleu and Airtime, the day we crossed the gulf stream were heading north from Georgetown so we reconnected with them in town over a few happy hours and dinners. Both of these boats had only spent a few days in Georgetown and didn't really like it or see what the draw was. This kind of filled Leah and I with some trepidation as most cruising websites and books proclaim Georgetown as the best spot in the Exumas for cruisers, and for many boats their only cruising destination. I guess we will have to wait and see.
There was a fundraiser for the local school so we checked it out and got drinks. A little boy bought lunch and asked me to cut his food up for him. Whoever had sent him to the fundraiser had not given him enough money for a drink. He made it clear that I should buy him a drink, which I eventually did as no else there seemed to know him. Ethan initially was a little stand-off-ish with the local boys his age though they were enamoured with him. We taught the kids to pound it and then Ethan couldn't get enough of them. I guess that Ethan isn't really used to seeing people with dark skin and is afraid of them – even though they love him. Likely he will grow out of that by the end of the trip.
After the fundraiser we headed out into the harbour in Family Business's tender, a around 20 foot 230 HP center consol runabout called "Ofishal Business". They use this boat to fish whenever they can. The boys had asked Steve to go fast on the boat so he took us out of the harbour and punched it. All of our kids loved going fast and on the way back James got to drive the boat, huge smile the whole way back. Thanks Steve! I went fishing with Steve, Trisa and Wayne, much to James' chargin, but we got skunked. We got one bite but the fish only grabbed half the bait, the half without hooks in it, and got away. They were going to throw the bait away so I took it back to Viatori cut it up and we tried to catch fish using the bait. It was great fun but we didn't get any fish, except a Sargent major fish that was smaller than the bait. James really liked fishing and stayed out until it was supper time.
Behind the school we found three Bahamian sailboat hulls. All through the Exumas we would see similar boats in fields, under ramshackle boat houses, sometimes holding the boathouse roof up, and in backyards. All of these boats were painted brightly with great names like "Slaughterer" or "Seahorse." I think these boats are only used a few weeks a year and sit for the rest on shore looking neglected. All of these boats are used to race in regatta's the biggest one being the Georgetown Regatta at the end of April. We are excited to see these boats get put back together and get on the water.
After five days in Black Settlement we felt we had seen it all and decided to head to Farmers Cay for a night.