We have been here for two weeks now with plans to stay for a few more days to take in the annual regatta.
It seems if you are stationed in one location long enough, you start to develop a routine. Since we have been in Georgetown, we have done some moving around from anchorage to anchorage to avoid a certain direction of wind or protection from a strong blow. But our days start to find a rhythm.
We have also visited another beach where cruisers get together to play volleyball. It has a little bar/restaurant called Chat 'N' Chill where we like to get cold drinks and then we hang out. This little beach also has a tiny booth that sells conch salad and the leftover conch bits get fed to the sting rays that like to lurke in the shallow water, so you can wade in and they swim right up to you and try to nibble your toes.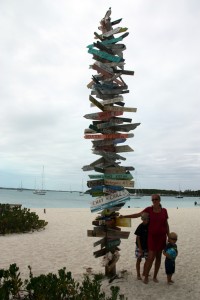 The next day is usually a town day. We usually call up Celebration or vice versa and make a plan for the day, then we dinghy into town. Often Richard goes into town by himself in our dinghy as it tends to be a very wet, rough ride with all five of us on board and Celebration graciously dinghies the rest of us over into town. We can bring garbage to a special dock and they will take a large bag of trash for $3. We walk "the strip" and duck into the few shops along main street and always walk through the straw market.
We have lunch in town; our favorite place has been Peace and Plenty which is a hotel with a restaurant and outdoor bar and patio. Groceries are usually done every other day too, usually some milk, bread, eggs, cheese and some fresh fruit and vegetables. Then we load up the dinghies and head back to our boats.
By the time we get home again, it is usually after 3:30, so the boys play for a little while, we have a simple, easy supper, like grilled cheese or macaroni and cheese or even some leftovers. Tonight it will be apples, carrots and sandwiches. After dinner, we have tried to have journal time so that James and Matthew have a bit of a memory book for the things we did and saw and the people that we spent time with.
Sometimes the little boys make it to sundowner when they get to blow their conch shell. Gaye found us an empty conch shell back when we were in Staniel Cay, Matthew carried it back on the long dinghy ride home and Wayne took it back to their boat to clean it up and drill a hole in the top. Wayne gave it to Matthew for being willing to hang on that stinky conch shell all the way back. I think Matthew even fell asleep with it in his hands, but he never let go of it.
Anyways, sunset happens at around 7:30 here so most nights the boys get all ready for bed, into their pajamas and then come up into the cockpit to watch the sunset. All the boys take turns blowing the shell amidst much applause and fanfare and then it's bedtime. Cruisers midnight is 9pm so Richard and I usually stay up past "midnight" unless Richard nods off before that.
We are blessed to be living this life right here, right now.
L