Yesterday morning we had an interesting visitor to our dinghy… a Bahamian boa constrictor!
We are anchored out right now, just outside of Georgetown while we wait for our new outboard motor to be shipped in and yesterday I came up into the cockpit to have my morning cup of coffee and happened to see a snake laying on the bow of our dinghy. I yelled for the all the boys to quick get up and see this! Up they came and we all stood at the back of Viatori and watched it for a while. Then we wondered what to do with this thing. 
Richard was a little afraid that it would make itself at home under some lines in Pup Pup or worse, crawl under the inflatable floor of our dinghy so he grabbed our boat hook, pulled in the dinghy and flung the snake into the water. There, problem solved, or so we thought.
Well, it turns out that the Bahamian boa constrictor is not a water snake, so we aren't sure how this thing managed to find us and get onto the dinghy in the first place, but we watched it swim around for a while, with it's head out of the water. The snake then made a beeline for our dinghy again! It climbed up the propeller of the outboard which sits in the water and then proceeded to climb into the outboard motor! It settled itself under the gas tank, so Richard took the lid off and tried to pry this thing out. The more he poked at it and grabbed at it with the boat hook, the more it hunkered down out of sight and out of reach. We were baffled! What the heck were we supposed to do to get this thing out?
I put out a general inquiry on the radio to ask about what other cruisers knew about snakes in the Bahamas because at this point we had no idea what kind of a snake it was, if it was venomous, if it would bite you or how to get it out of our outboard motor! It turns out Richard ran into a marine biologist on a neighbouring boat so I hailed them and picked their brain about our situation. The husband and wife are both marine biologists so they could answer a few of our questions amidst some chuckling on their part when I told them the whole story.
An hour after this all began, Richard had managed to tie a string around the middle of the boa and had pried it out of its hiding spot. The snake was getting tired. Richard tugged on the string and pulled the snake out and again flung it out into the water, away from our boat. This poor snake was desperate to be back on dry ground, but it started to once again swim back to Viatori! We were beside ourselves! What if this thing swam into one of our through hulls (an opening in the underside of the boat which leads to toilets and kitchen sinks)? Richard starts slapping at the snake in the water with the boat hook in an effort to "shoo" it away. We finally decided we were going to have to put it a bucket or bag and bring it to shore. Another couple dinghied over and asked if we needed help. This guy had some knowledge of snakes as they were from California and so he borrowed our boat hook, scooped up the snake and brought it into shore. Thank goodness. This non-water boa seemed to be at the end of its rope. It stayed draped on the boat hook all the way to shore and was left resting in someone's backyard.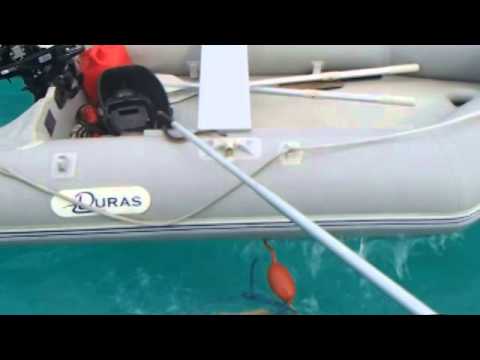 Just another day in the Bahamas!
Yikes!
L
A few facts about Bahamian boa constrictors… An adult boa can reach lengths of 6-8 feet (we only saw a young one-phew!). Young boas live in trees and shrubs and eat lizards. Adults eat frogs, birds and rats and if allowed to reach maturity, an adult boa can consume thousands of rats. The Bahamian boa constrictor is an endangered species.  
.