Today, September 11 is Matthew's 7th birthday! The big day has finally arrived!
My son has a pretty good number sense and has been asking since ohhhhhh, June, how many more days until his birthday. At that point we were still talking months, which to a six year old boy equals way too many days! Since August, the frequency has been ramped up, so every few days he was asking, "how many more days until my birthday?".
Well, September finally arrived and Matthew has been telling everyone, even complete strangers in the grocery store, "it's only 8 more days until my birthday; it's only 5 more days until my birthday; not tomorrow, but the next day is my birthday."
Well, the big day finally arrived! Matthew opened presents first thing in the morning and then we had pancakes for breakfast. Yum! The boys have spent the morning alternatively playing with the new Lego guys and ripping open bags and putting together the new Lego Star Wars Millenium Falcon that Matthew received for his birthday. Richard found it for a steal of a deal on Ebay and we couldn't resist.
That's right, today we added 1, 254 pieces of Lego to Viatori. Our boat sunk a little deeper into the water this morning!
The beauty of this gift is that all the boys get new characters and even repeats of stuff they have already, so they stop and play with the guys. Then they take a break from playing to build and out comes the one of two, 65 page books, the bags of new lego pieces dumped onto a cookie sheet and the building commences. This back and forth will go on for hours, possibly days! Gotta love it!
We had wanted to take a trolley with a picnic lunch to a park for the afternoon, but the weather did not cooperate with us. Something about a low pressure tropical disturbance hanging around in the Bahamas that causes crappy weather in Florida? We will postpone the trolley ride and picnic for another day.
Instead we went to McDonalds for lunch and then spent the afternoon playing Lego and watching a movie. Guess which movie we watched? That's right, Star Wars III.
Matthew requested his favorite supper, taco salad and then birthday cake for dessert. All in all, a great day for our newly turned seven year old!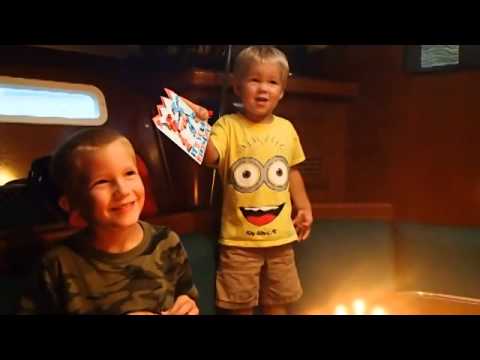 Happy Birthday Matthew! We love you!
L