After Disneyworld we headed back to Viatori full of memories, tired and dreading the process of packing up the boat and moving out. We had five days to pack up our lives to head back to Alberta. One problem was that we couldn't pack everything up right away as we were still living on the boat so we had to decide which items we could pack now and live without and which we had to wait to pack.
I had a few boat survey items to finish so I finished them and then packed the tools – it is a great day when you can say "I'm done with boat maintenance for a few years!" Next we packed non-essential electronics, decorative stuff and books. Then we had to make choices about what items we would take and what we would leave on Viatori. Try as we might we ended up going over our luggage allotment by one box in order to get our stuff home. Leah was relentless in getting the boat cleaned and packed and without her the whole process would have been a disaster.
Cool Beans and Horizon had a farewell dinner for us of chili, homemade corn bread, cupcakes, a fruit platter and pretzels. Carter from Horizon loved the pretzels – a little too much as he had to feed the fish once and then was fine! We fed the boys and then put a show on for them while the adults had supper and hung out in the cockpit of Cool Beans. It was a great night and we will miss all of them dearly.
We also got to visit James Fachtmann and Katey (soon to be Fachtmann?) our super broker who invited us up to his apartment for wine, pizza and a view of the boat parade on the ICW.  Getting there was a bit of a race against time as they open the bridges and leave them open for the duration of the parade.  Luckily we made it to James' place before getting trapped on the wrong side of the ICW.  The view of the parade was perfect and we had a great time visiting.  Some how I neglected to get a picture of all of us while we were there – bad Richard.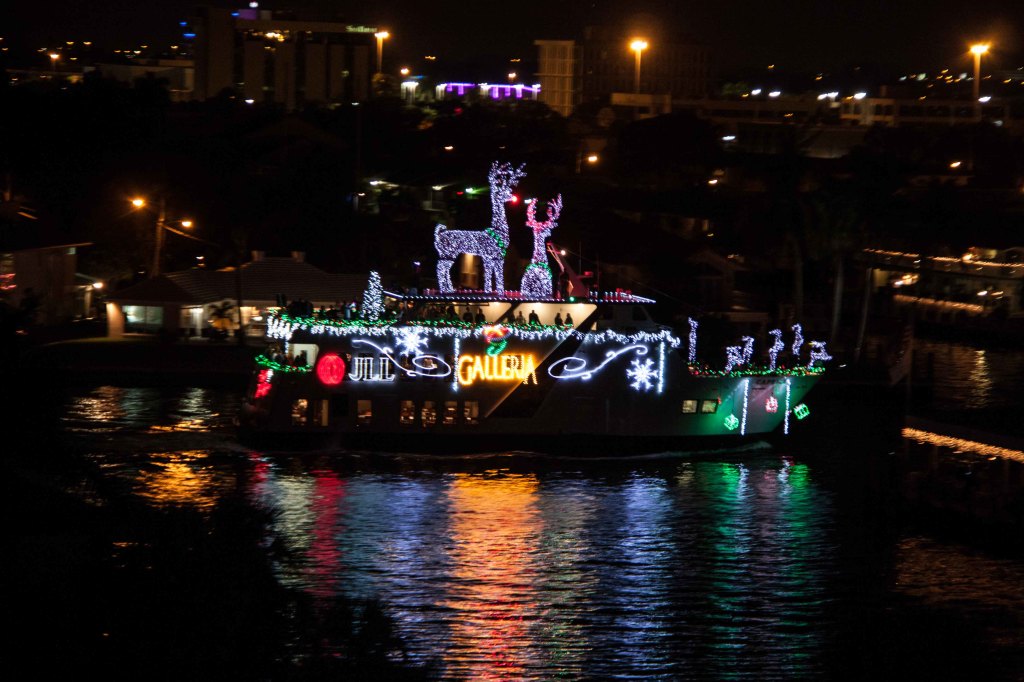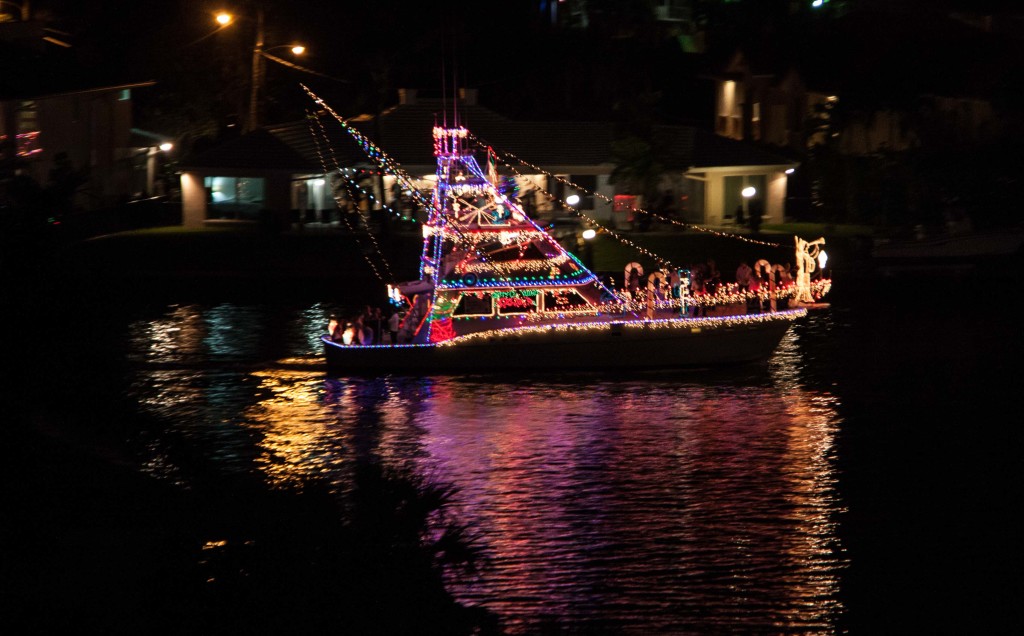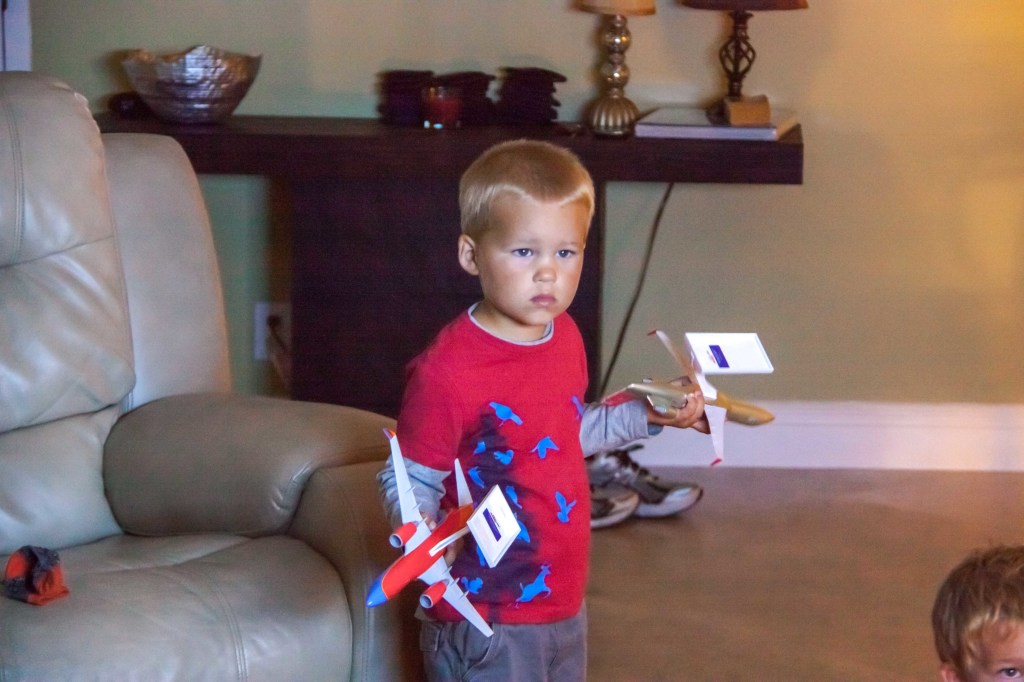 Some of the most stressful times in our marriage is when we have to leave for the airport or for camping as we set a departure time goal and then must rush meet it. This time was no different mainly because all the toys were packed and by 10:00 the crew needed a change of scenery which we were unable to provide this time. We had to leave by noon and we just made it!  Mike's truck was loaded with boxes and we piled into our car to head to the airport. Thankfully, the United Airlines check in was empty and we had 4 checkin assistants to get everything checked.  We had weighed every bag and box to get to 50 pounds while packing and were pretty successful as we only had one overweight item.  I had added a couple of charts to a bag which went overweight so we had to move them to a another box.  One shipping total weight 539 pounds out of a 550lb allotment.
We arrived at the airport at 12:30 and it was surreal that by 1:20 we were sitting in the terminal waiting to board.  We had about an hour to boarding time so the crew pulled out the Lego and the Thomas trains and built a track right on the floor. Before we got on the plane we gate checked 5 more bags and were on our way to Houston!
On the plane from Houston I saw Blaine Holmes whom I know from Scotford sitting in the first row while we were at the very back of the plane. It was nice that he went slumming and visited us at the back of the plane. He has been following the blog and his favorite post was the toilet post. That was nice to hear because usually people "crap" on that post for being too technical – Thanks Blaine!!  He caught me up on the news at Scotford and then he headed back to his seat for landing.
Re-entering Canada involved about a 40 minute wait which was painful because Ethan was at the end of his rope morale wise. We collected our 10 boxes, one hockey bag, 5 duffal bags, 2 rollies, 3 backpacks, one stroller and a carseat which required 5 luggage carts to carry.  We put the lightest stuff on one cart which Ethan pushed happily.  He couldn't see over the load but could see my head so he had to follow me without seeing where he was going.  I had to dodge him or direct him away from others whenever his 3 year old enthusiasm would get the better of him spending him charging off blindly at high speed in the wrong direction. Customs looked at us with raised eyebrows but when we told them we were relocating they let us go. One suburban load of stuff and one MDX load of people back to Winkel Acres for a glass of wine and a well deserved sleep.