Getting to Toledo was a bit of challenge as it was our first trip via the European railroad. The station in Madrid is huge and it was painful to find which train platform our train was on as they only announce it 20 minutes before the train departs. Once through security and ticketing you have to find your train car which for us lately has been at the end of train. We made it and then took two taxis up to our place, as European taxis only carry 4 people, not five. It was fine as our luggage would never fit in one puny cab anyway.
Our home in Toledo was a VRBO in the middle of town, in Plaza Solarejo, on the top floor of a building likely constructed in the 1200s. The whole place had been renovated mainly with Ikea stuff and had three bedrooms, two in a loft and one on the main floor. We had two bathrooms, laundry and a modern kitchen.  It was luxury, after the Madrid apartment.
The best part of staying in Toledo, aside from the coolness factor of living inside a castle town, was how close every attraction is. In Madrid we had a minimum of a 30 minute commute by foot, trains and buses from our apartment to attractions, while in Toledo most attractions are at most a 10 minute walk. A few afternoons while Leah and the boys were hanging out in the apartment after a busy morning and avoiding the 30C heat, I would wander the streets of the city.
These walks, while arduous as Toledo is a city of hills, were my favorite part of being in Toledo. I would walk down streets that have been in place for a minimum of 1000 years and certainly some dating back even further. Toledo was conquered by Romans in 192 and changed hands between Romans, Visigoths, Moors and then finally the Spainish kingdom in the 1200s. Throughout its history it generally was a religiously tolerant city which made it a center of academy and also has lots of mosques, churches and Jewish temples. Geographically it is in the center of Spain and was the defacto capital of Spain until 1504 when the capital was moved to Madrid 70 km away by Phillip V due to either his dislike of the arrogance of the Toledan clergy, the tortuous narrow streets, steep gradients and cramped location that made it unsuitable for Philip's imperial vision.
The old city of Toledo is surrounded on three sides by a river and a large walls on the non-river North side of the city. Two bridges were built to cross the river one in the Roman era (197 AD) and one in 1300s bridge on each side Northern corner of the city. I loved to look at these two bridges and there is a path that runs from one bridge to the other around the south of the city at river level. The whole way you can look up towards the city and see the remains of old fortifications, what seems like an old bridge and even some ancient houses. The locals come down to the river to relax and fish; at least two tourists came to skinny dip based on the two piles of clothes, one calling to the other to "hurry get in" a flash of skin and a splash as I rounded a corner on the path.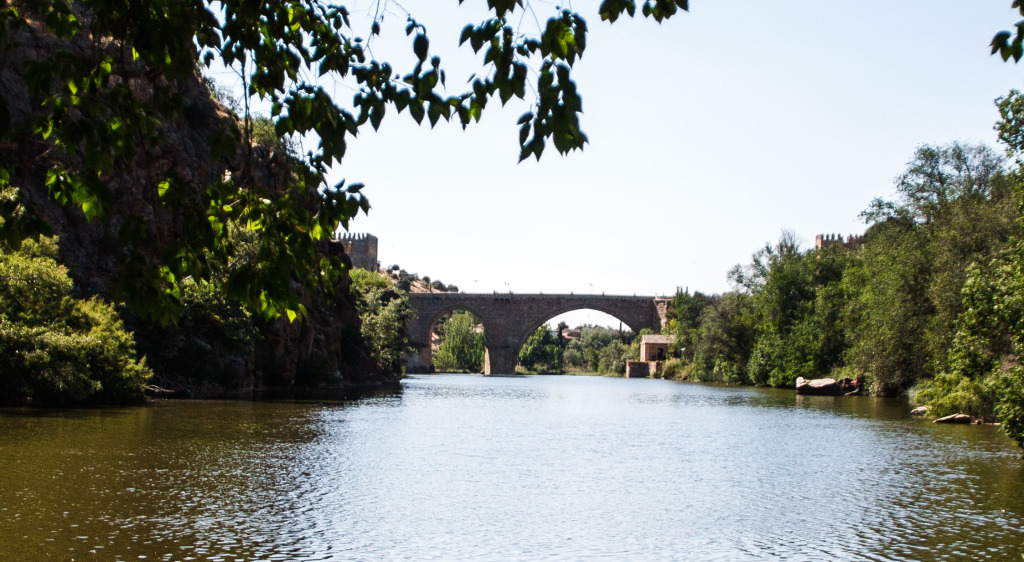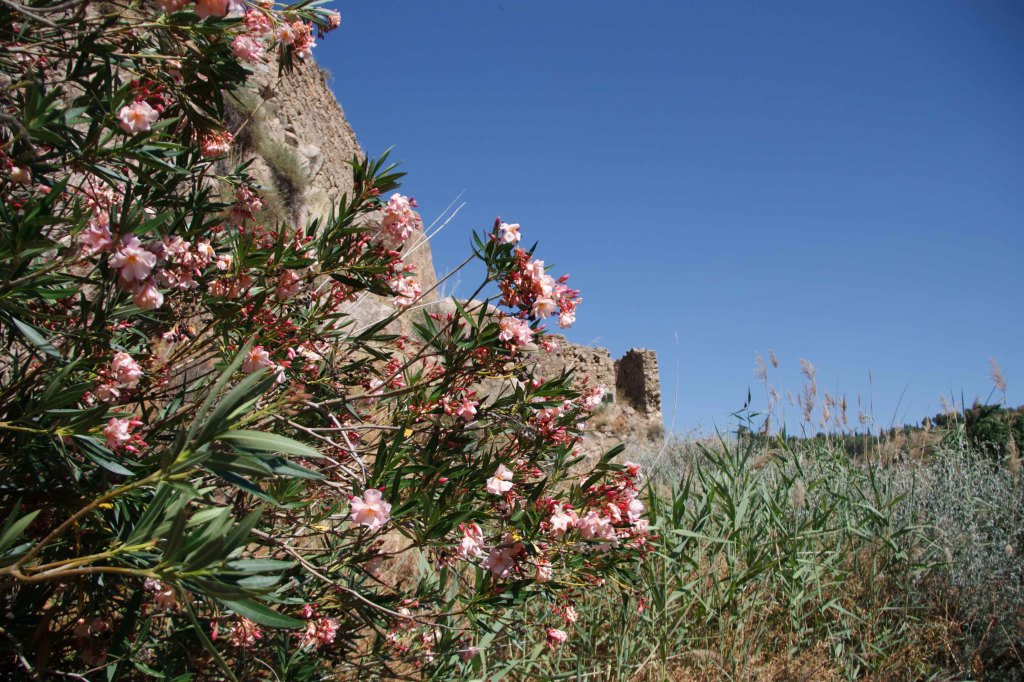 As I toured the city, I came across many old gates each of which were constructed to improve the fortifications or encompass the growing city. In all there must by about 10 "famous" gates and I must of hit all of them. Some were quite impressive and other not nearly as conspicuous but all seemed formidable to me. Additionally I hit a few monasteries and churches but mostly I just walked the city, getting lost and enjoying finding my back home with a full camera and tired legs.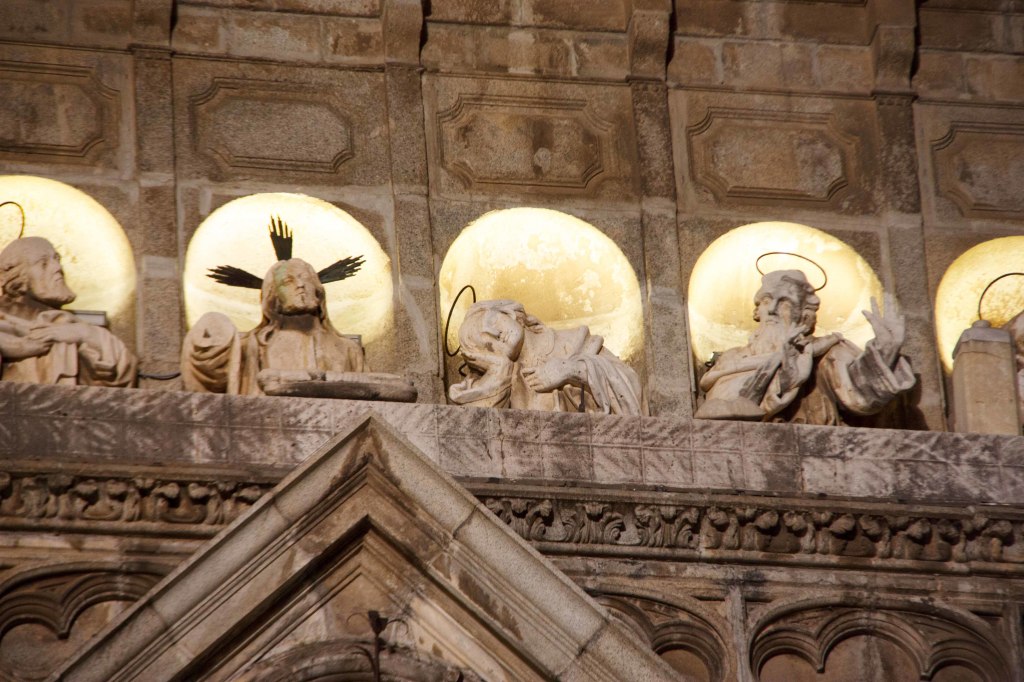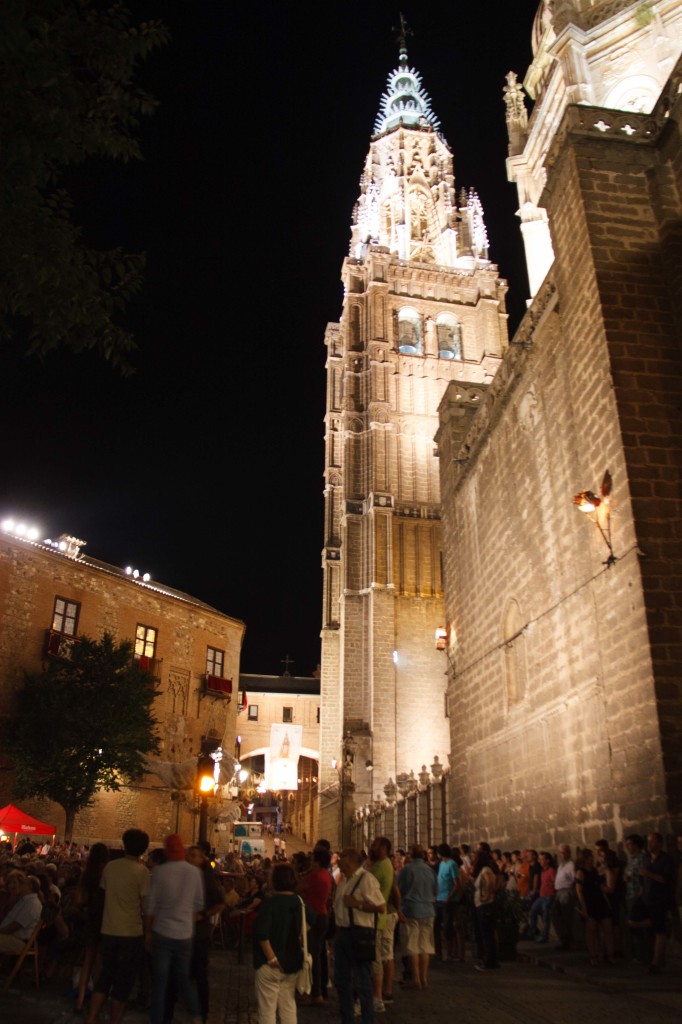 There is a festival called Corpus Christi which by fluke was happening while we were there and our apartment had direct view of the parade route which is decorated with lamps, hanging tapestries, an herb garland and a canvas cover to shade the street. All week, every once and while, with no apparent schedule a marching band, dancing troupe or a bunch of large man sized puppets would follow the parade route from the Cathedral to Plaza Zocodover. We would run to the balcony and watch them go by. The parades culminated in a procession which intended to be solemn is quite boring as a never ending string of church officials walk past and then stop in frequent log jambs. The high after three hours is the Monstrance of Arfe which dates to 1524 and is decorated with 189 kilograms of silver and 18 kilograms of gold. It is said the first gold from the new world was used on the Monstrance.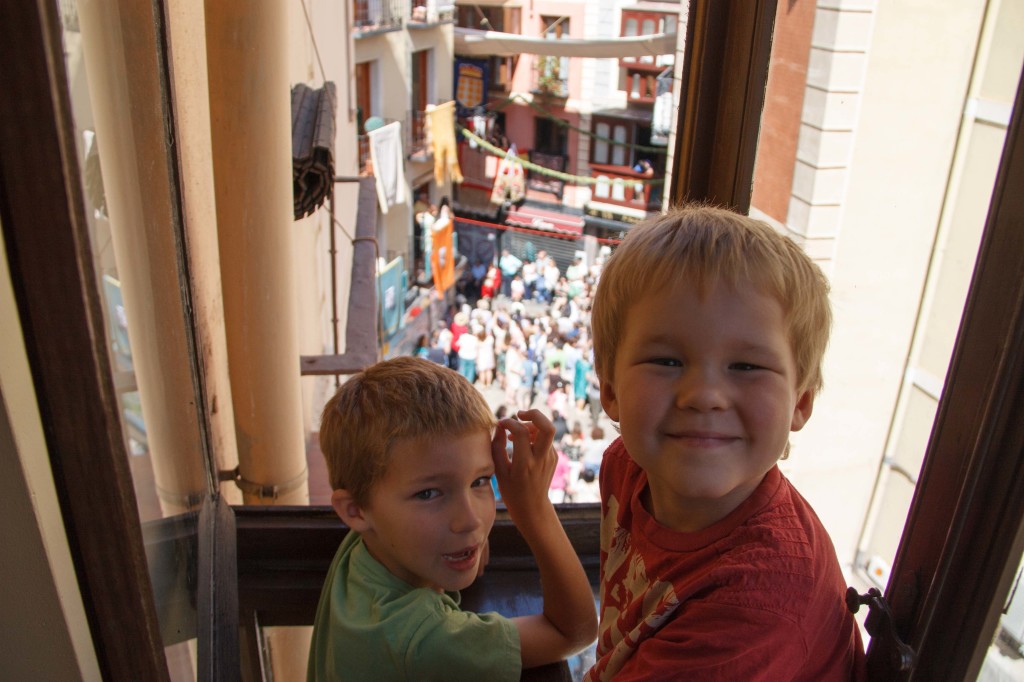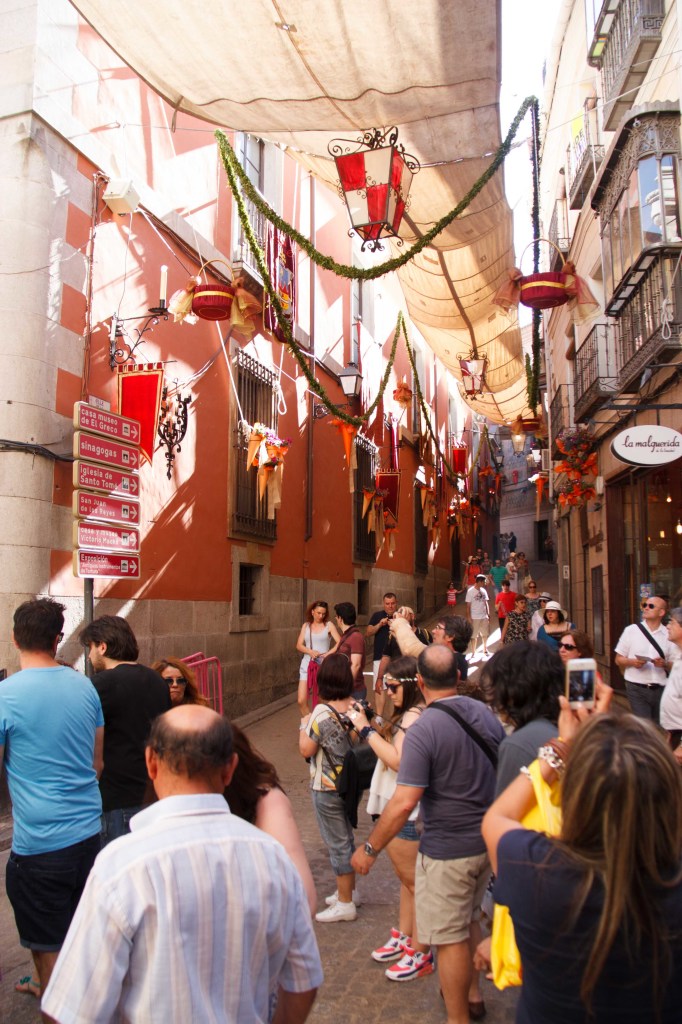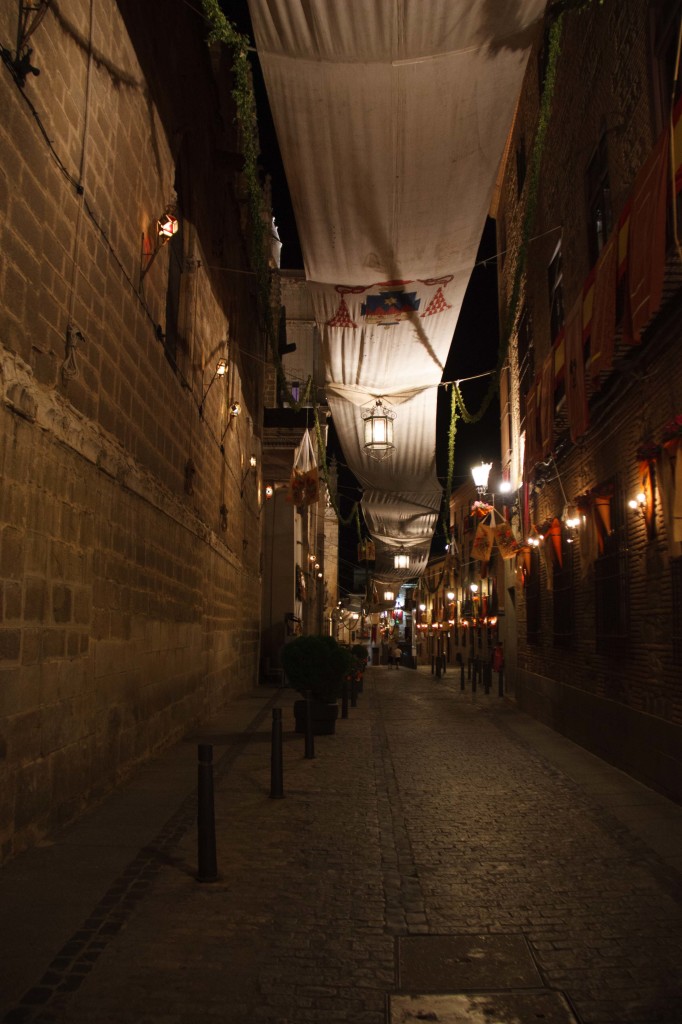 It was all a little confusing for us but fun to watch. At night there would be concerts at the Cathedral and I went to check out the Flamenco singer who was accompanied by an amazing guitarist and a pair of clappers. The singers spent most of the night on microphone but the last song he projected into the crowd and it was amazing. The crowd fell silent and his voice echoed over about 1000 people clearly and beautifully. The concerts didn't start until 10:00 or 11:00 at night so I went alone and the boys missed it all.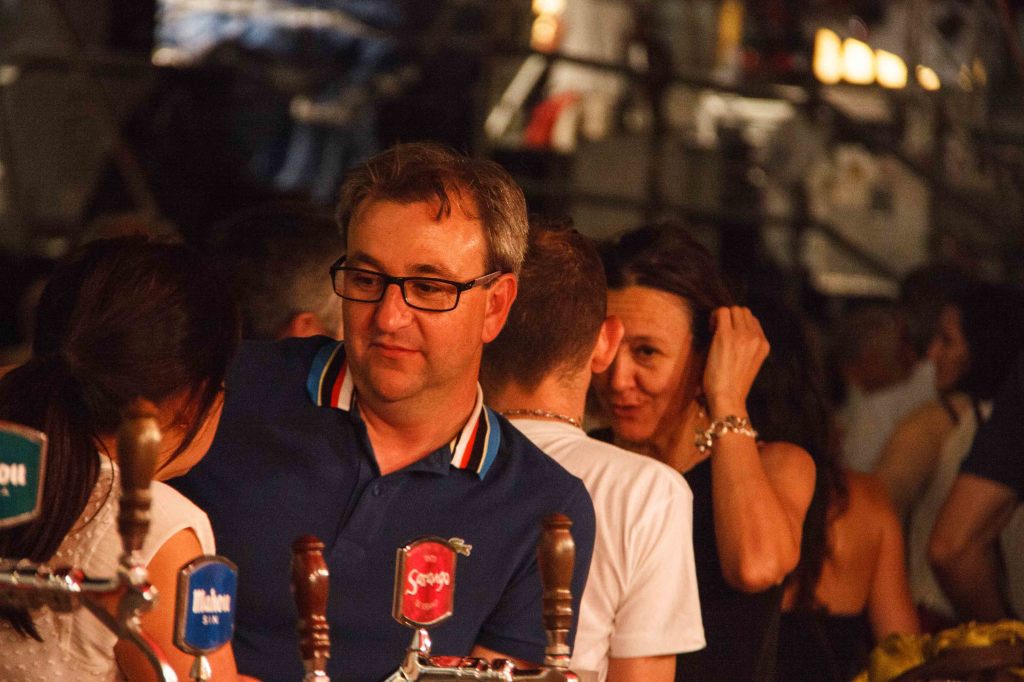 Toledo is famous for its steel, in particular swords which of course are on sale everywhere – everything from Templar, Nazi youth knives, Lord of the Rings replicas and samuari swords. Next to our front door was a souvenir shop which the boys would rush into whenever we left the house or came home. The shop keeper was quite fond of the boys and didn't mind how long they spent browsing, even when Leah and I would get a coffee in the restuarant 20 feet away. On the last day we bought Leah's birthday gift, a hand-made silver pendant and the shopkeeper gifted Ethan a letter opener sized sword – Robin Hood pattern of course. A great surprise and a great way to end our time in Toledo as we left the souvenir shop, hailed a taxi and split our group in two, again, and took two trips to get from our house to the train station.