The Eid holiday fell over September 23 and 24 this year so we decided to go on an overnight road trip with some friends and do some exploring of Oman. 
We made plans with Mike and Jennifer and their two kids, Eva and Eli, and arranged a two day trip to drive south to Sur, check into a hotel and then find a wadi which Richard had heard about from someone at work.  The following morning we wanted to find a sinkhole, a big dam and then drive back to Muscat.
First a little background on Eid.  Eid al-Adha is also called the Feast of Sacrifice, when Muslims remember that God called Abraham to sacrifice his son, Isaac as an act of obedience.  God stopped Abraham from killing his son and provided a ram to offer instead.  The meat from the sacrificed animal is supposed to be divided up into three parts.  The family keeps a third, shares a third with extended family and friends and donates the last third to the poor and needy.
While on our road trip, we saw many people walking in and bent over picking up rocks from dry wadi beds, apparently picking rocks to make their own altars for a sacrifice.  There were also goats everywhere; walking in the ditches, hanging out in little clusters in the middle of town, walking atop a small wall near the beach.  Then after their first sacrificial and/or celebratory meal of goat meat, we saw the butchered remains of goats everywhere.  They were tossed in dumpsters, near dumpsters, and with other piles of garbage.  It was rather eye opening for our boys to see that, as well.
We left Wednesday morning and drove straight to the Sur Plaza Hotel which was surprisingly a nice place.  We didn't really know what to expect from a place in Sur which is a much smaller and a little more rustic city than Muscat.  We ate our packed picnic lunches in our rooms and then we decided to hit the road again in search of Wadi Bani Khalid.  It was another long drive, but completely worth it!  It is a natural wonder like you have never seen!  Lush, green with a waterfall, cave and pools of naturally occurring spring water which seems to just appear out of a dry, brown, desolate wasteland.  The fresh water felt amazing after the hot walk from where we parked the car.  We stayed for three hours and we had to drag the kids away at 5pm after they had found a little stone ramp and ledge to jump off of.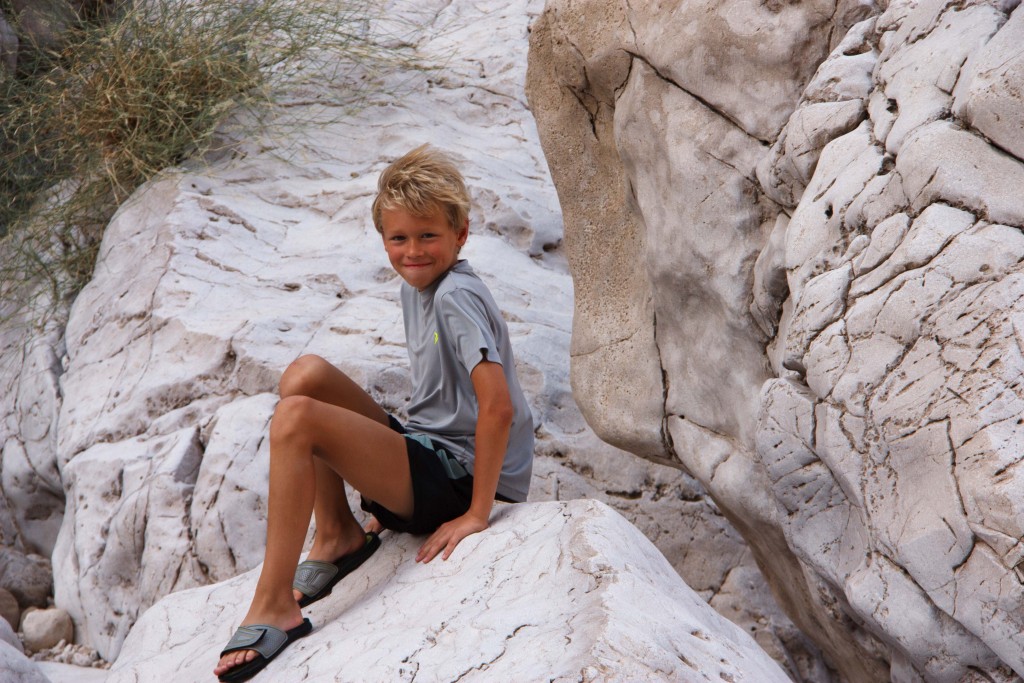 We had supper in the restaurant at the hotel and then everyone crashed hard that night.  After enjoying a wonderful continental breakfast with homemade waffles, we packed up our things and hit the road again.  We drove around Sur a bit, trying to get our bearings and just doing some exploring by car.
We drove along the coast line and found the spot where they build Dhow boats, the traditional Indian Ocean trading and fishing vessel.  They make them by hand here and we climbed on board one that they had been working on for a year and a half.  It was a Friday so most things were closed, and no one was working on the boat, but the boatyard was open and we were able to climb into a Dhow under construction.  Very cool!
Then our crew headed to the Bimmah Sinkhole in Hawiyat Najm Park, which is another beautiful natural wonder.  The literal translation from Arabic is Meteor Fall Park, but the sinkhole was created by limestone erosion and rocks collapsing to form this hole in the earth.  We ate lunch, we swam, we jumped, we floated, we let the little fish nibble our toes and then we fought the crowds of Indians to get out of the parking lot again!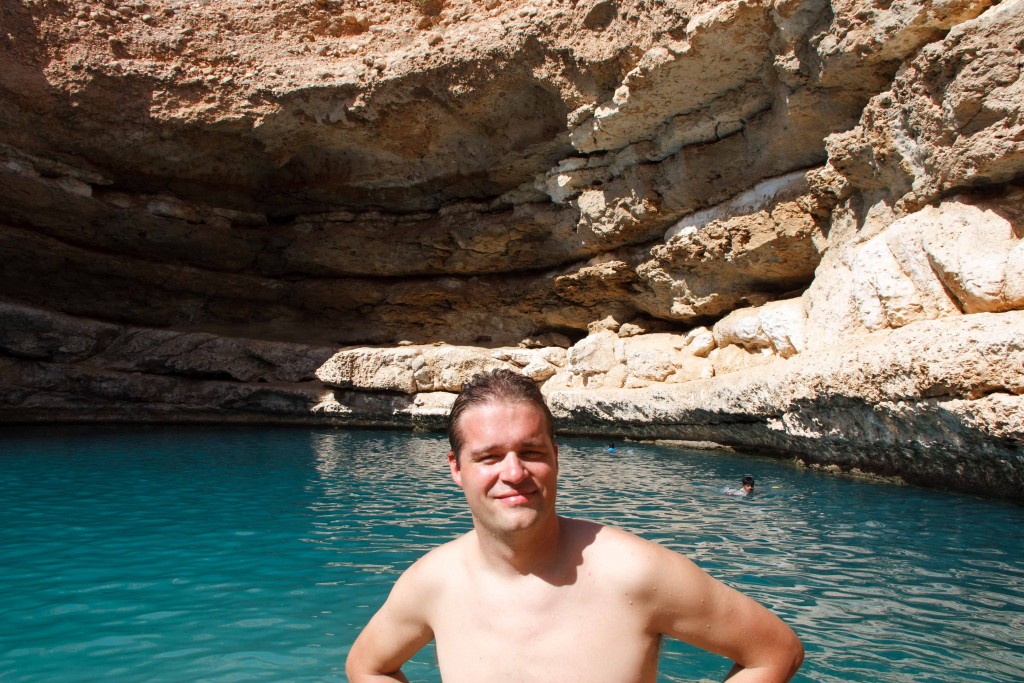 We had one more item on our list of "things to do near Sur," so on our way home, we stopped at Wadi Dhaiqah Dam which is in a valley that is fed by around 120 wadis.  There are fruit farms in the area so the dam is used as a water collection facility by the government for irrigation purposes.  Everyone was a tired and a little crabby, so the dam was a quick stop to take some pictures, stretch our legs and use the bathroom before we headed back to Muscat.
Our group ended the two days with supper at McDonald's and declared the road trip a success!  Here's to more exploring this beautiful and rugged country with the Anderson's!
L