It's a long way from Edmonton to Muscat so when visitors come they can expect to things:
An order for pork and a few (lots this time) other things we can't get or are crazy expensive here.
A road trip to see the country and experience the culture – one of our favorite pastimes.
At final weigh-in my parents luggage hit 300lbs of which only 40 was personal luggage.  Highlights was the bacon ($30 a pound here), canned ham (unavailable) for super macaroni, gifts from family and a weber BBQ.  Thankfully we booked their arrival with Plaza Premium Lounge who picked them up in the Terminal, did all the Visa paperwork and carried the luggage out to the car.  All in less than 15 minutes from plane arrival to parking lot.  I have no idea how long that would have taken without the service.  A must from now on!
The first few days we tried to take it a little easy while Mom and Dad got over a bit of their jet lag but also we tried to do something every day.  We took them to grocery stores, Ruwi and the PDO club so they could get a feeling for what life is like for us here in Oman.
Our first main activity was a dhow cruise.  A dhow is a sailing vessel of the Indian ocean which were being used as early as 600BC to trade between east Africa and India.  Traditionally, they are propelled with lateen sails and followed the monsoon winds which blow one direction for half the year and reverse for the second half.  Even today ships with only sails travel from Africa to the middle east delivering cattle and dates.  Our boat had a good 'ole diesel.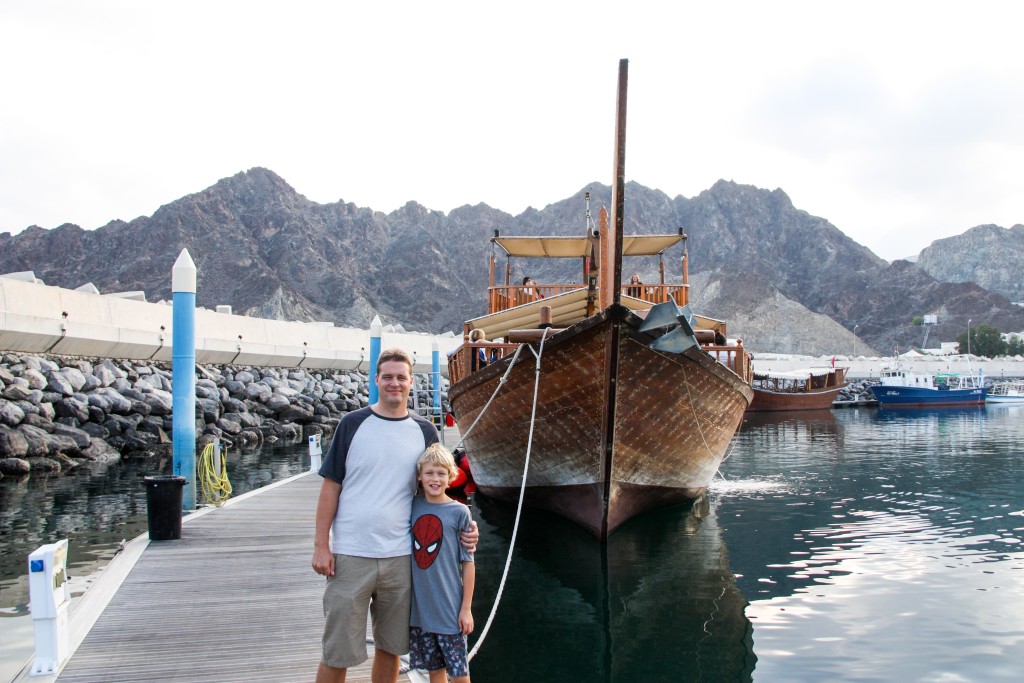 Almost immediately after we cleared the marina breakwater the captain had Matty driving and he stayed on his post until we returned to harbor.  The captain even let Matty do all the driving to dock which required a ton of "prop walking" to get the boat to spin 180.  He did excellent and was proud to have got her done.