Just 40 minutes from Puerto Vita is Holguin, which is a town with 800,000 people per our guide book. The drive is easy and fun with a great road that wasn't busy and lots of people, fruit stands and houses to look at on the way. Holguin is overwhelming at first, with people everywhere and the roads packed with bikes, motorbikes, large trucks, cars, horse drawn wagons and bicycle rickshaws. Navigation is near impossible and we got lost. James and Matty were getting a little worried and Leah didn't like how busy it was. I thought it was great, just like China and India, no problema – except for finding the house.
After stopping at two different gas stations we got to the central part of the city where I pulled over to get more directions. It seems that people here either don't use maps and the addresses don't really mean that much because no one can point to our location on a map or give good directions based on a address.
Janet, from the marina, had warned me about Jinatero's which are hustlers of tourists who will try to exact money from tourists and I met my first one as I was getting directions. His English was good and his face friendly as he led me to a place to stay close to where we were standing, but not the one I had the card for. I said "no" and he offered to take me to ours, though it is a "long way." It turns out, the guy had already approached Leah who was waiting in the car with the kids. This guy was persistent!
The long way was only 10 blocks and took 5 minutes following the Jinatero on his bike. Turns out we had passed it twice and Holguin isn't as big as we thought, the two service stations we went to for directions were on opposite ends of the city. When we got there, the Jinatero and our host Mirelis had a spirited conversation in Spanish and then he left. Not the easiest introduction to Holguin but we made it.
In Cuba, we are staying at Casa Particular's which are essentially guest rooms in peoples houses. This is a new thing to be allowed in Cuba as tourists used to have to stay in government hotels. For us, it is perfect as it allows us to interact closely with Cubans and be fully immersed in their culture. It is a little awkward as they live their lives around you and it takes some getting used to. Also it is advisable to physically check the place out before you officially accept the accommodation. The Cubans who run these houses can charge one month's wages per night per room so many have stopped working and try live off of the rental incomes instead.
Our host in Holguin, Mirelis is a single mother who is also a doctor. She spent five years in Venezuela as part of the doctors for oil program. When she came back she bought a big house, for Cuba which she is renovating into a Casa. Currently two of the three floors are renovated, the main floor with a living room, dining room and kitchen where she sleeps with her daughter. The second floor is for guests with a pair of rooms which each have a bathroom. Her daughter Amanda is a cutie, who would call the boys her babies when people would come over or when we went for a walk.
Not far from Mirelis' house is one of the main squares of Holguin called Calixto Garcia Plaza. Instead of taking the car and walking, we hired two bikes. They are set up like trikes, as the driver sits in the front and pedals, and there is a double wide seat behind the driver where Leah, James and Ethan sat. I went with Matthew. The square was busy with locals coming to relax, hustle, eat and meet each other. Our friend, the jinatero, found us in less than 5 minutes once we entered the square but we shrugged him off and sat down on a bench. The boys, especially Ethan, were starting to melt from the heat so we headed into one of the key attractions of the city, La Periquera.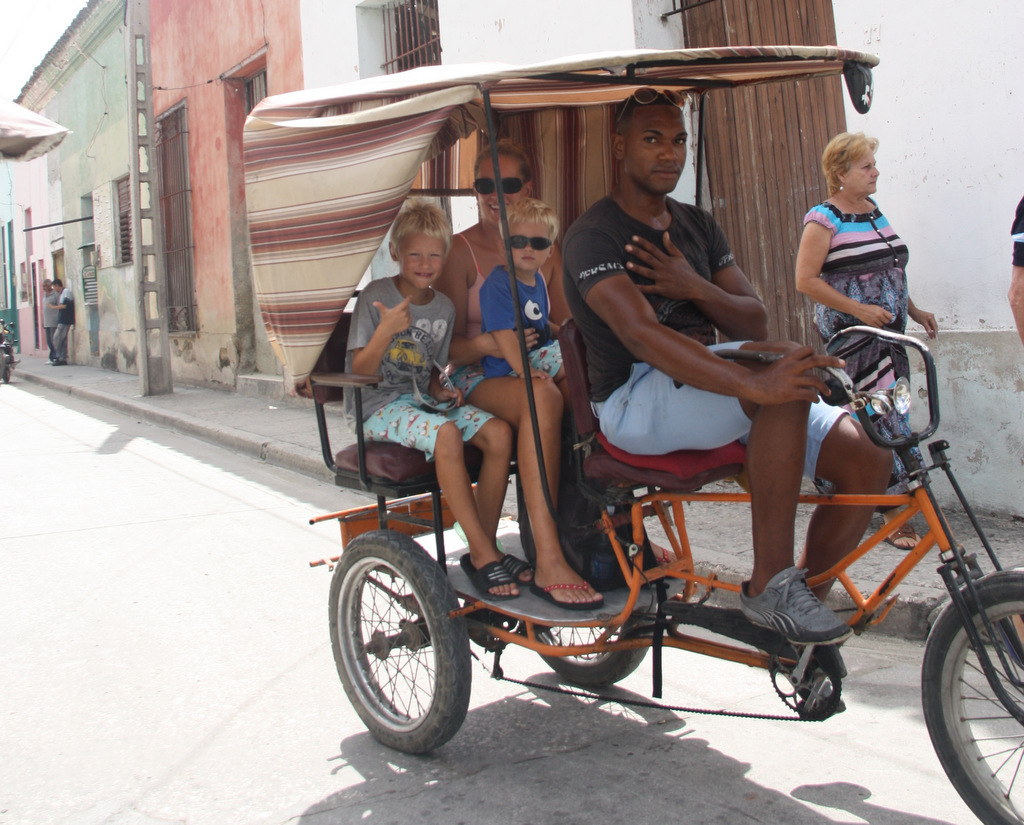 Bike taxi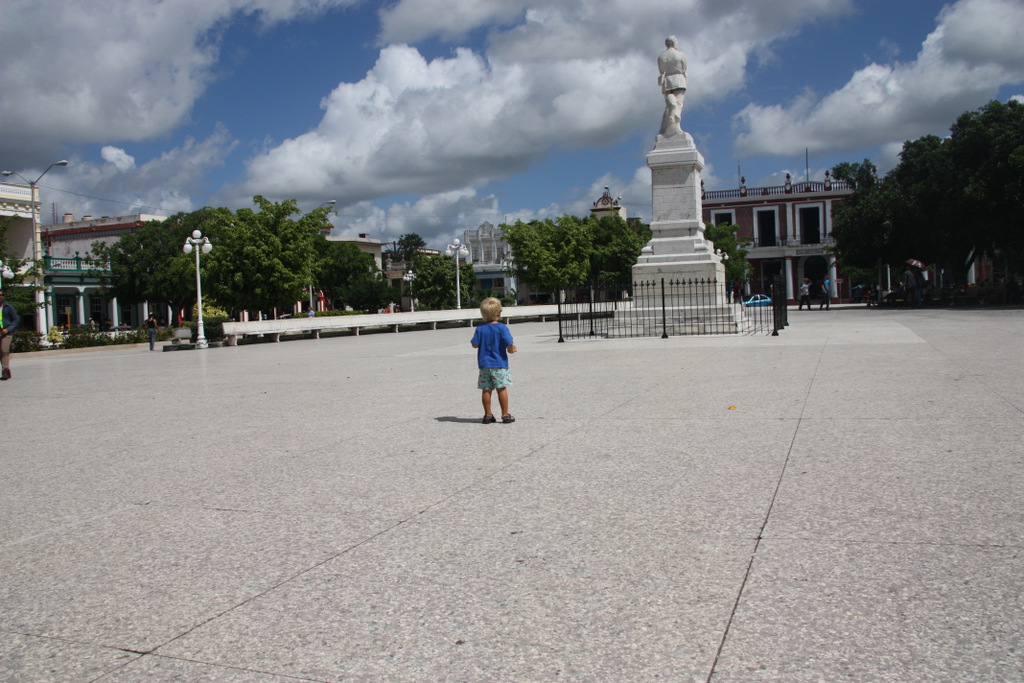 Mooky in the square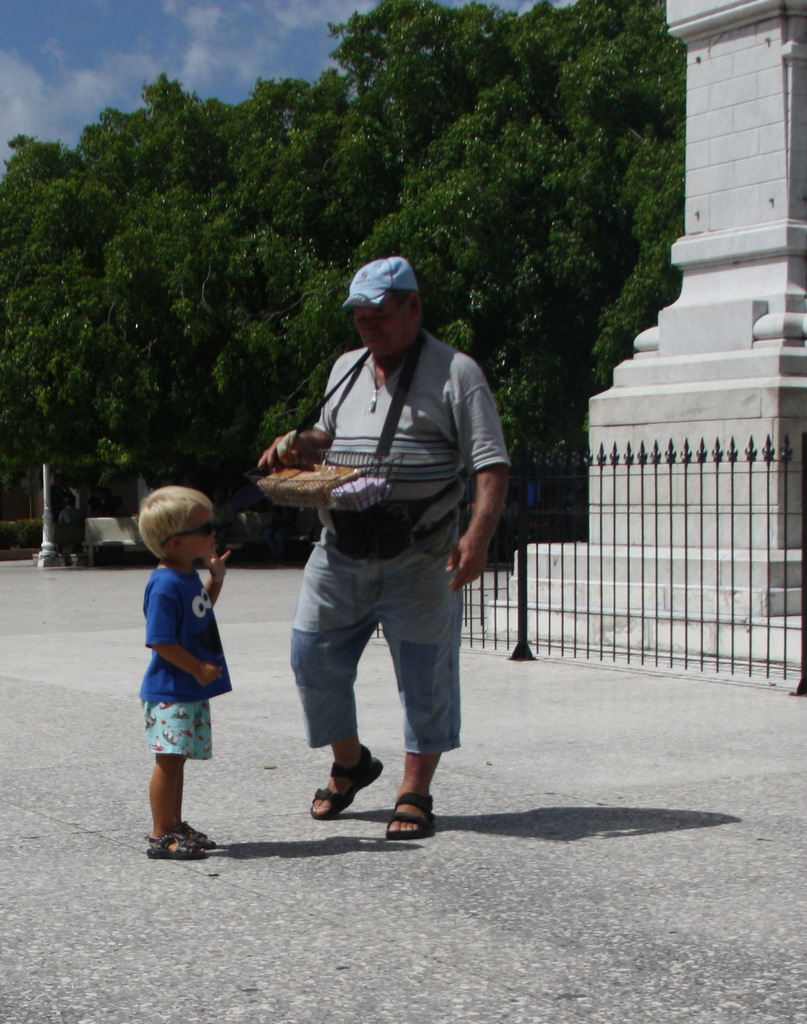 This guy doesn't know that mooky will talk to him for hours and not ever buy what he is selling
La Periquera is Spanish for parakeet cage in reference to the color of the Spanish Army's uniforms. It is a really cool building with a large central courtyard in the middle and huge rooms around it. On display are large prints of what appears to iconic pictures of Fidel and his buddies from the 60s. The pictures are very well done but the cultural significance of them is lost on us. Lots of guys hanging out with guns, smoking or at farms.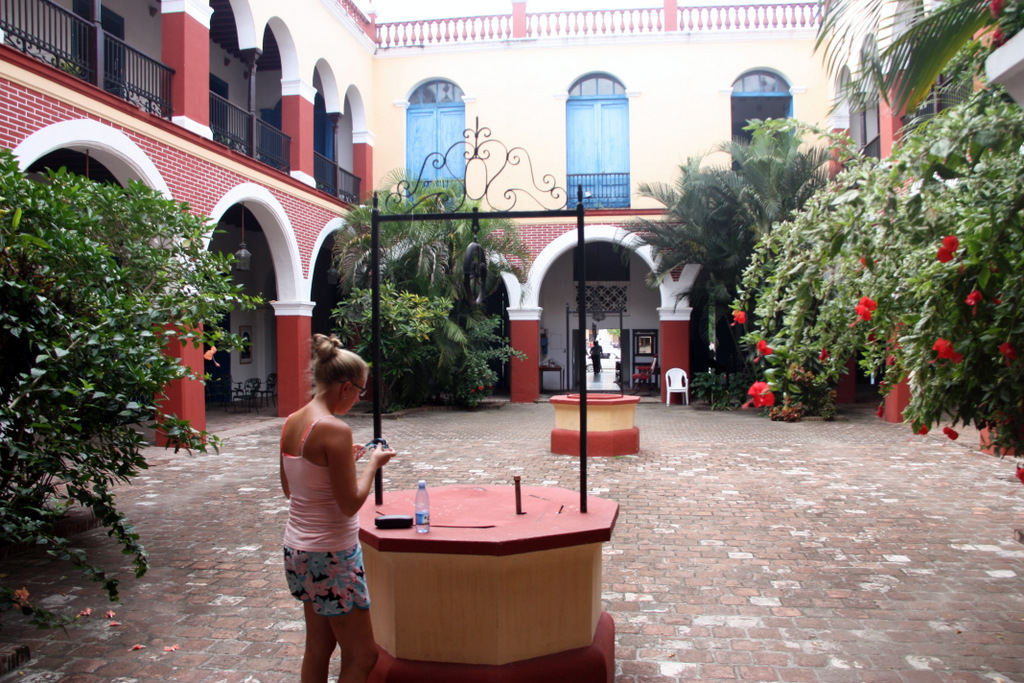 The courtyard in La Periquera
Aside from the pictures they also had a collection of 1800s musical instruments, furniture and two old canons which the boys liked. The best part of the museum were the empty rooms of which there were many and all of which were huge. They boys ran back and forth through them and had a great time playing the age old game of "chase." We also hit the bano (bathroom) which had no toilet paper or lights and there was a puddle of unknown liquid on the floor so we stayed away from that.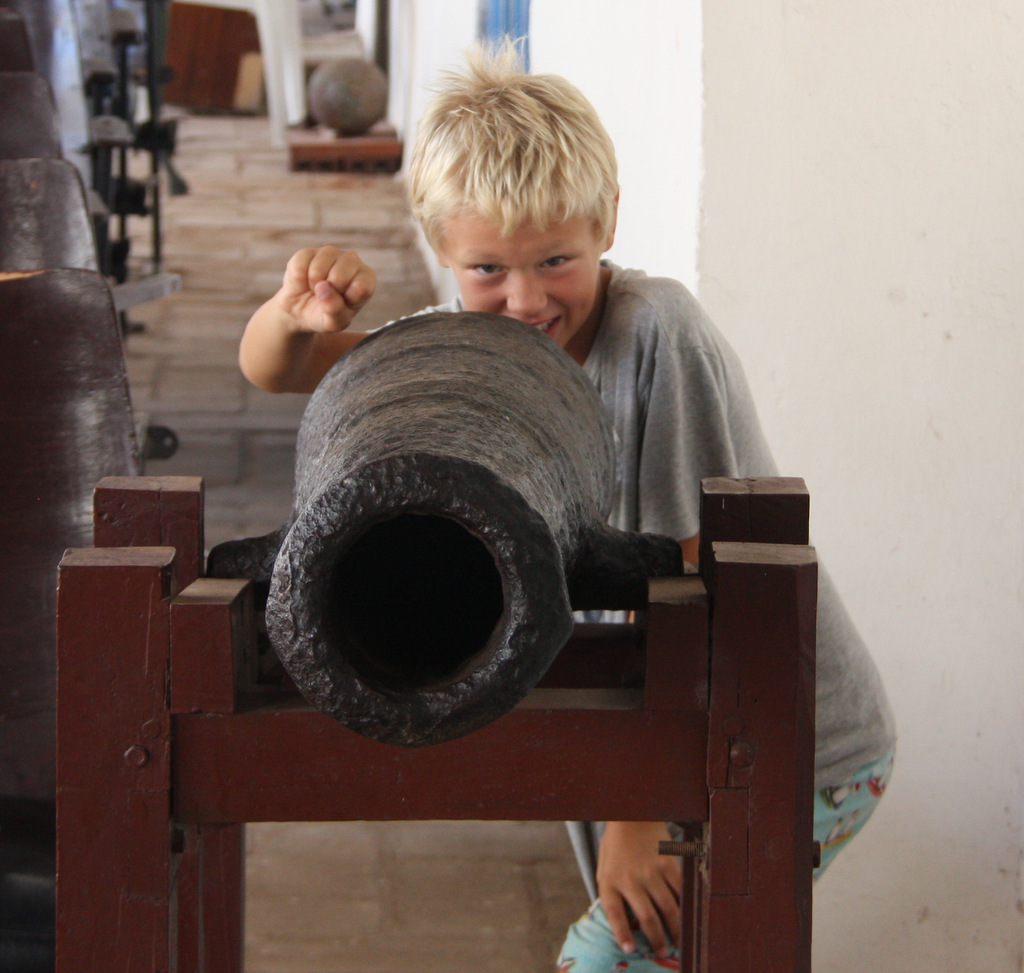 Fire One!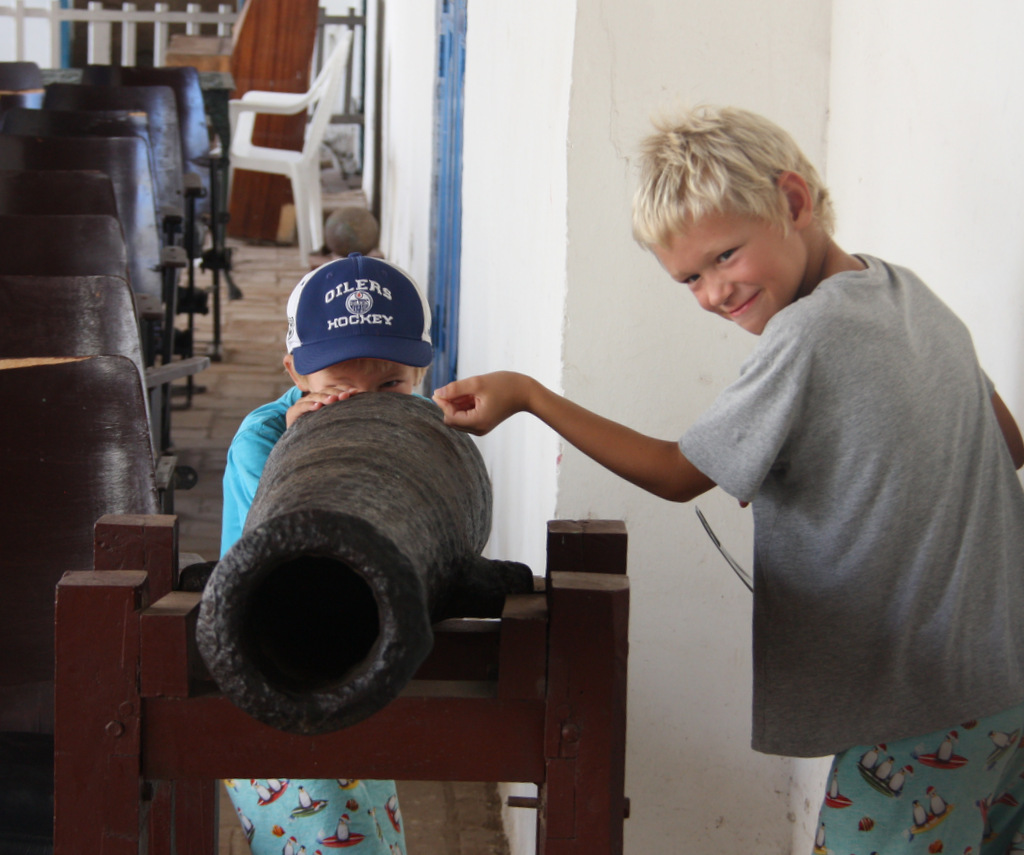 Fire Two!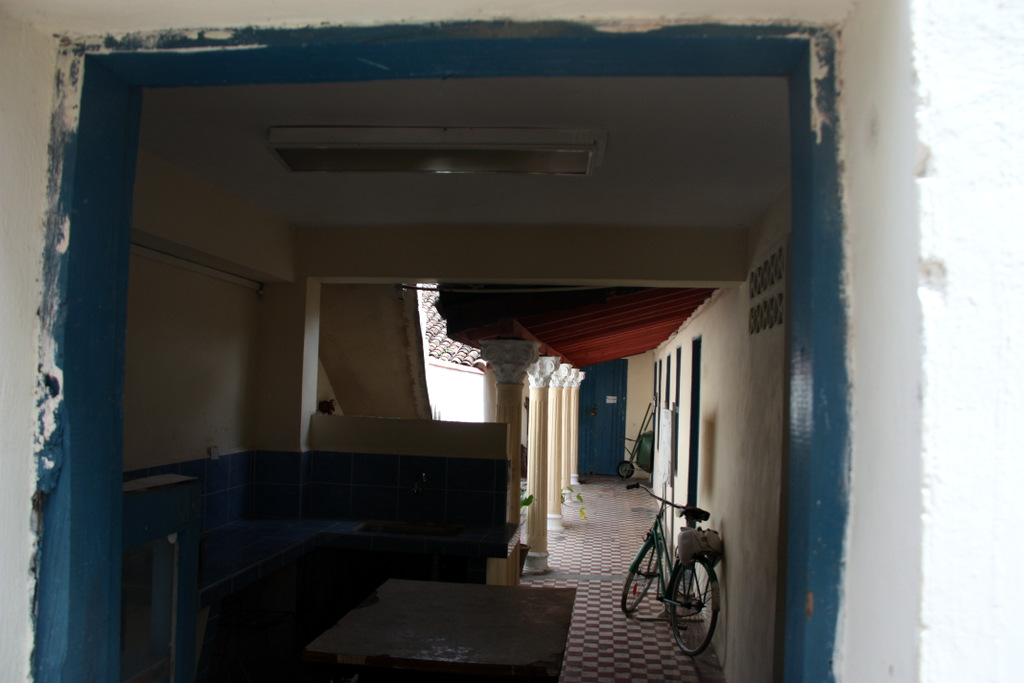 Wondering what this hallway is supposed to be for.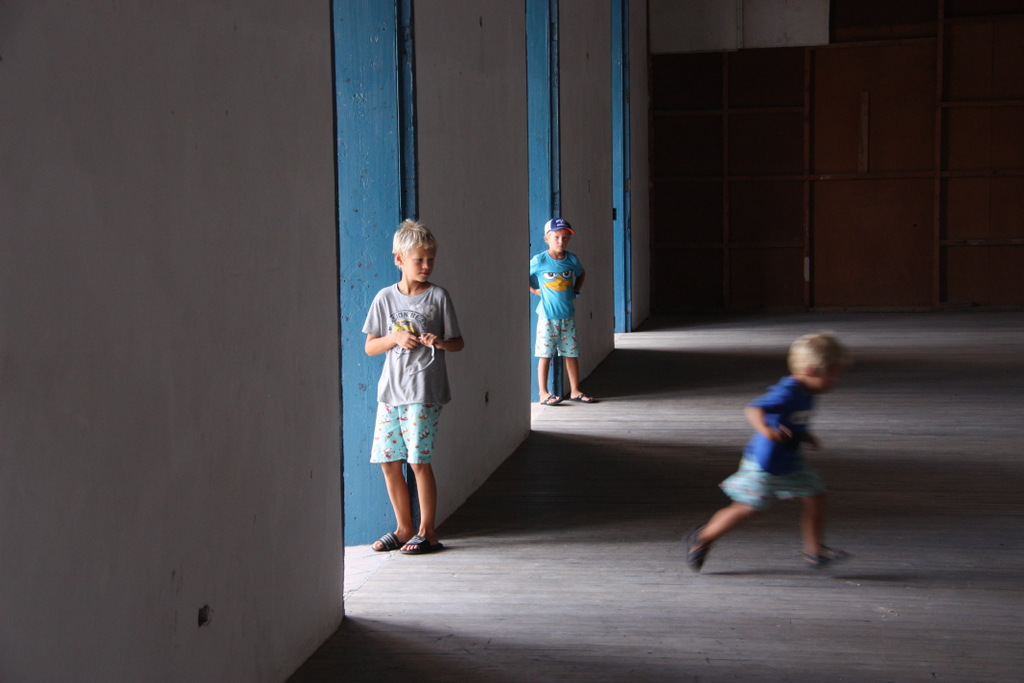 Playing chase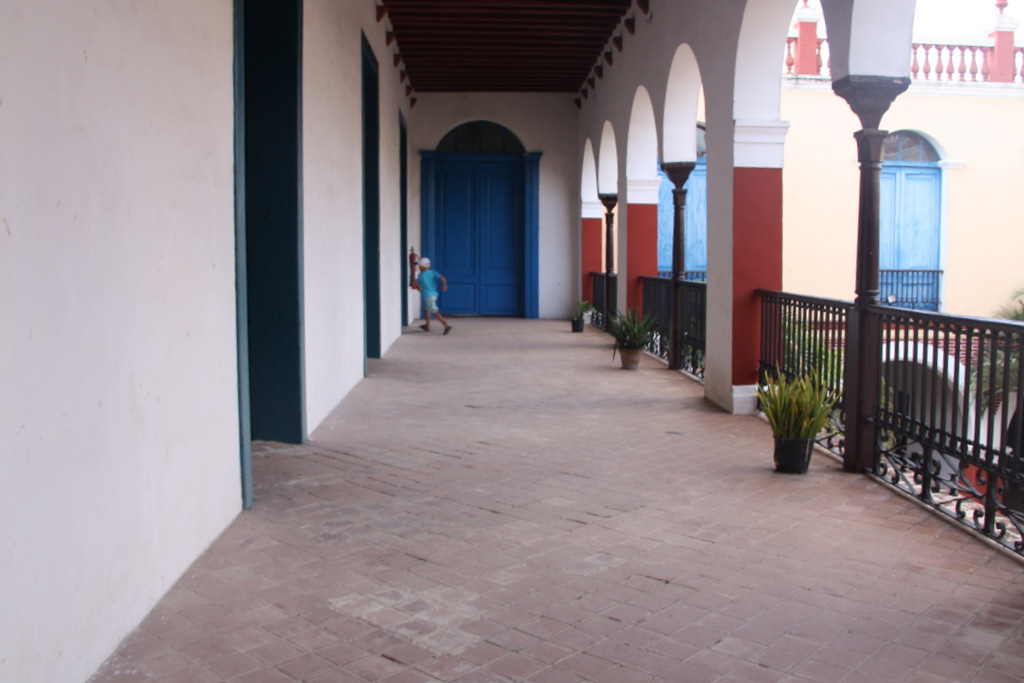 More Chase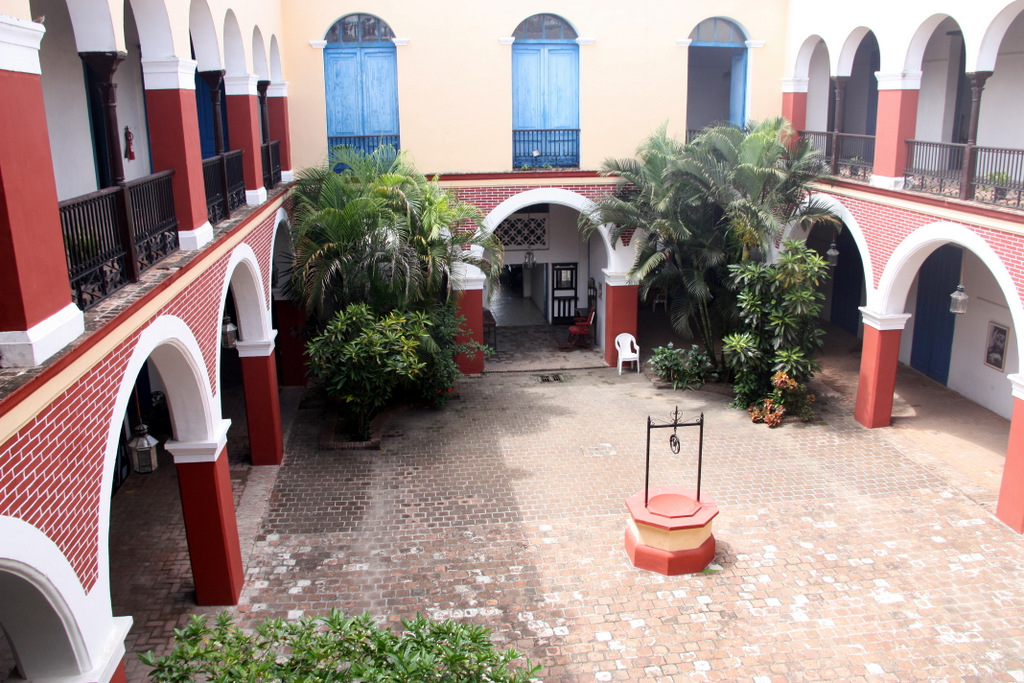 The courtyard from the second floor
Cooled off and tanks emptied we walked a few blocks to the next square in search of the natural history museum but instead we found pizza. The pizza was very cheap and not bad. It also restored morale which had plummeted after walking in the heat from one square to the next. The one thing we were missing were napkins which hit Leah's morale a bit. They pass the food to you in a piece of paper or thin cardboard
Rather than hunt for the museum on foot we decided to bug out so we took a taxi home, a 1955 Bel Air in mint condition. The driver got lost but we found it eventually. The boys loved the old car.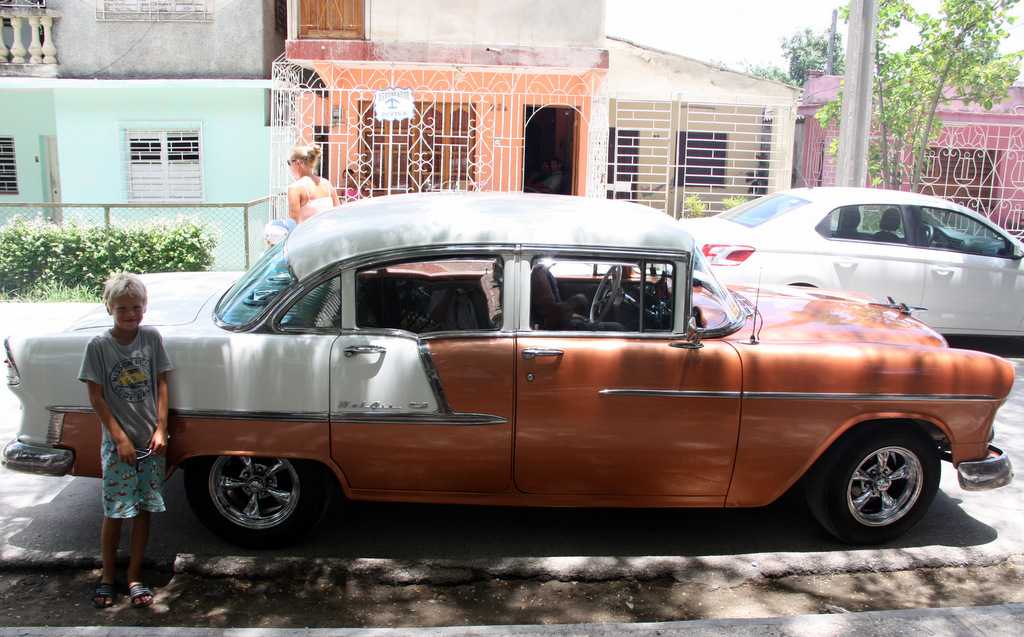 The Bel-Air in front of the Casa
The next morning we had a relaxing breakfast and then headed off to the natural history museum which should have been a 5 minute drive but it took us 30 minutes. I am not sure it pays off to have a car in Cuba. The streets are laid out in a grid but you can't find a map that has them all on it and only about 25% of the intersections have street name signs on them. This means that you are never sure which road you are on or whether you have crossed the street you want to turn onto. After circling Holguin ten times we did manage to find it.
The Carlos de la Torre y Huerta Musuem of Natural History was pretty good, except that Ethan fell and cut his lip while playing "chase." I carried him for a while and we looked at the exhibits which were mainly animals, bugs and shells found around the island. Ethan recovered and soon joined his brothers looking at everything. My favorite was the butterflies but the boys liked the stuffed birds especially the crane and the flamingos.
After another 30 minute drive back to the house we packed up and said our goodbyes to Mirelis and Yani her helper. Our next stop was Santiago de Cuba which is a lot bigger than Holguin and is renowned for its Jinateros.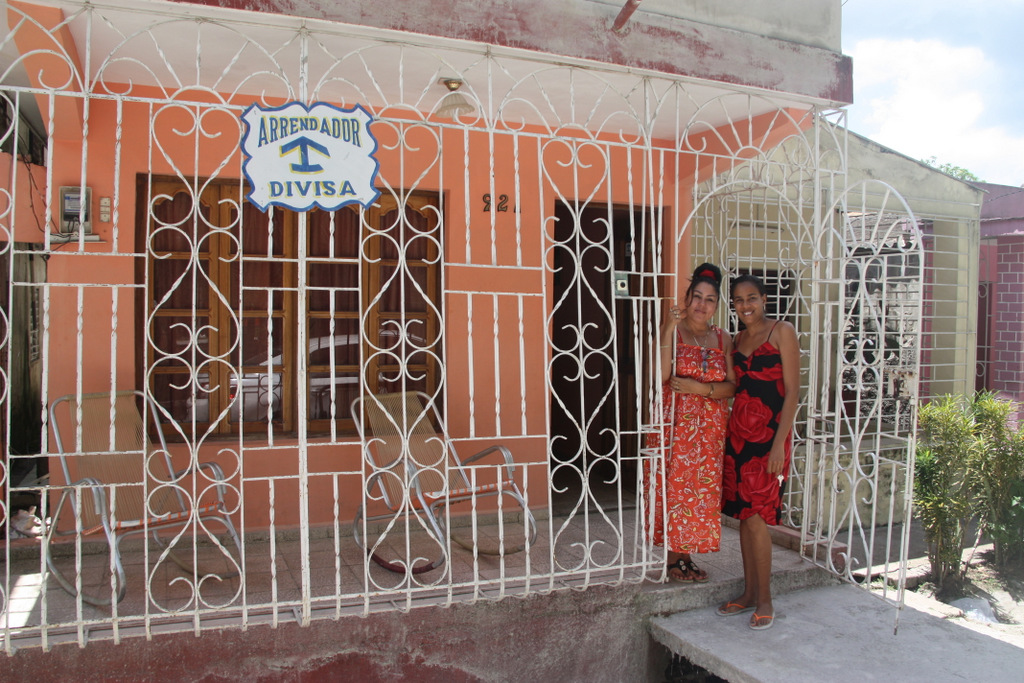 Miriles and Jani in front of the Casa