The rainy season has hit Costa Rica, so we decided to do one last road trip before we left for Europe.  The number one tourist destination in the entire country is La Fortuna Waterfall.   Arenal Volcano is also very popular and we wanted to check out both of those places.  We left our vacation rental house, as our month was officially up, rented a car and drove up the mountain!  It was a beautiful scenic drive through farm country; dairy cows, horses, fields of vegetables and coffee and sections covered in screen, like greenhouses.  Costa Rica is a lush, green and beautiful country and we enjoyed the view.  The roads are so windy and twisty that a few of our boys got a little carsick, but they bounced back quickly enough.
We found a great little hotel in the heart of La Fortuna, that offered a complimentary continental breakfast and had the added bonus of a pool, which the boys were thrilled with!  We made that our home base and then did some day trips from there.  We scoped out some free hot springs that the Costa Ricans frequent in the evenings.  It was a bit awkward getting there, but worth the trip.  The boys loved it!  For supper we found a steakhouse on the side of the road which boasted fire roasted meat and it was, by far, the best food we have eaten in Costa Rica.  The owner/chef custom ordered for our family and it was delicious!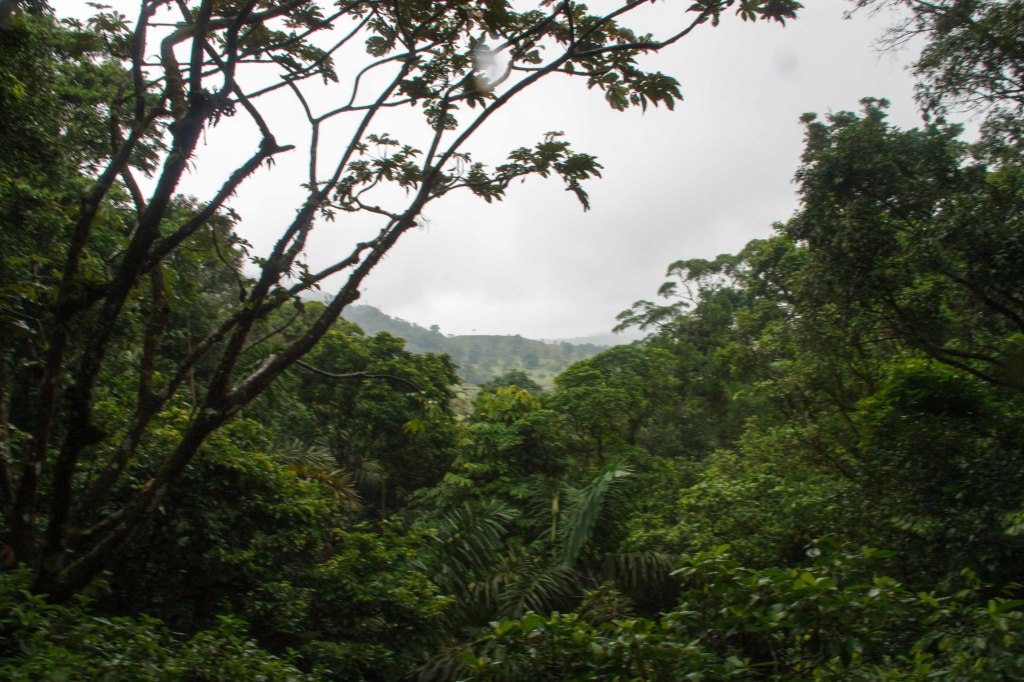 Wednesday, we drove up to Mistico, which has hanging and suspended bridges that you can walk through, up in the treetops of the rainforest.  We didn't see much wildlife, but it was misty and very cool, nonetheless.  Later in the afternoon, while we were back in town, the clouds cleared and we had an actual line of sight to the top of Volcano Arenal.  It smokes all the time and apparently you can hear it rumbling.  That was the only glimpse of the actual top as it was very cloudy and rainy the entire time we were there.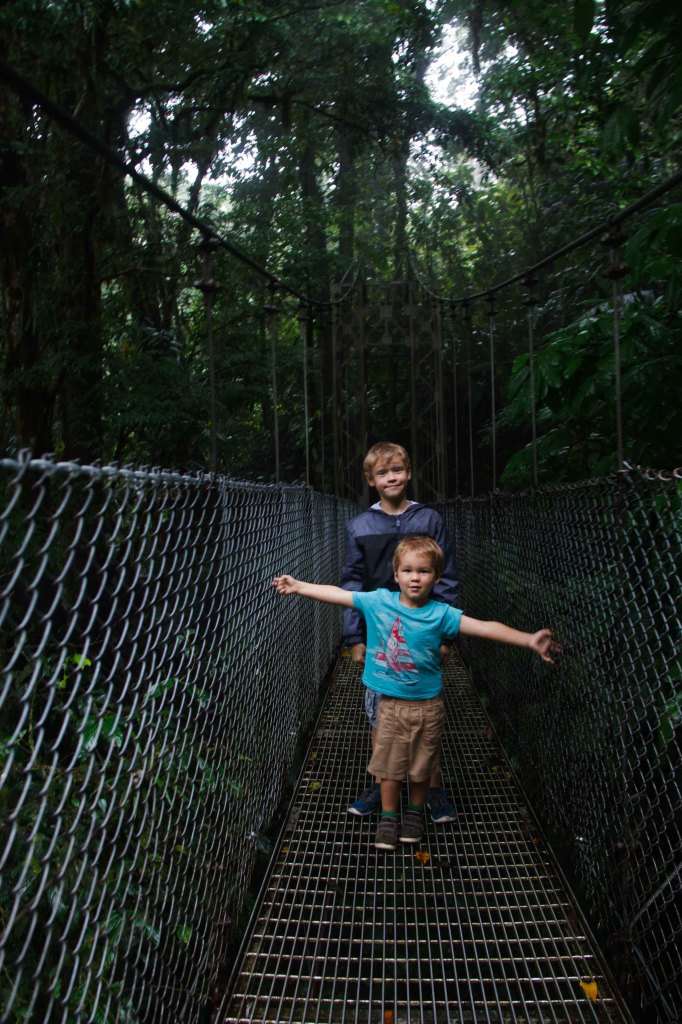 The next morning, Richard, James and Matthew went to La Fortuna Waterfall.  Ethan and I stayed back and enjoyed the pool.  The waterfall was worth the 471 steep steps to get there.  In the afternoon, we played a game of Agricola with the big boys while Ethan had a nap (he was tuckered out from his pool time!).
Friday, we drove to Sarchi, which is a popular little tourist spot with wooden art.  We had promised the boys that they could look for a souvenir and this was the place to do it.  Ethan wanted a sea turtle stuffie, but the big boys each found a painted wooden mug.  We continued on to San Jose, returned our car and prepared for flying to Spain.
L