How did the Viatorian's end up in Madrid, Spain? It started raining in Costa Rica – so we left! We were done with visiting the US having spent 6 months there last year so we decided to head to Europe as it is "on the way" to Oman. We didn't really have a location in Europe picked, so we decided to take the cheapest flights across the pond that we could. For a few days, Google flights, the best vagabond travel planning tool I've found, showed that Frankfurt was the cheapest place in Europe to fly into from CR but all the seats booked up the morning we were considering going. The next cheapest was Madrid and my new favorite major airline – Avianca. We paid $3300 for 5 tickets one-way and could have round trip for about the same price. The key is to be flexible on dates, location and book more than one week out. Google flights seems to work better with round trip flights than one-ways outside of N. America.
While we were still in CR, our plan was to drive to Arenal from Steve's house to see one of the best volcanoes in CR, swim in hot springs, explore some waterfalls and do a jungle canopy tour. We managed to knock off all of these four things, find a fantastic hotel, some great food and get some pool time in. The volcano shed its cloud cover for about 10 minutes and we were lucky enough to get to see it.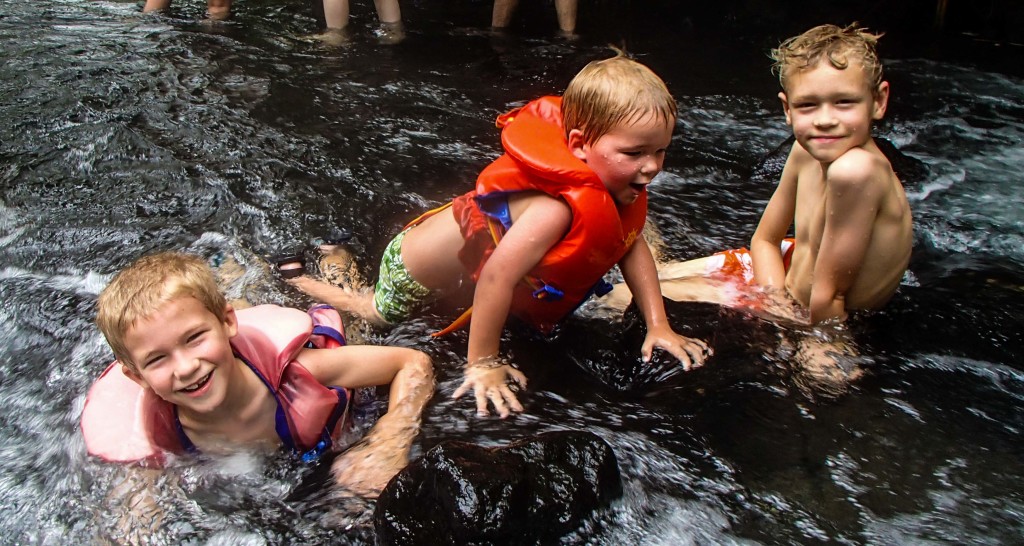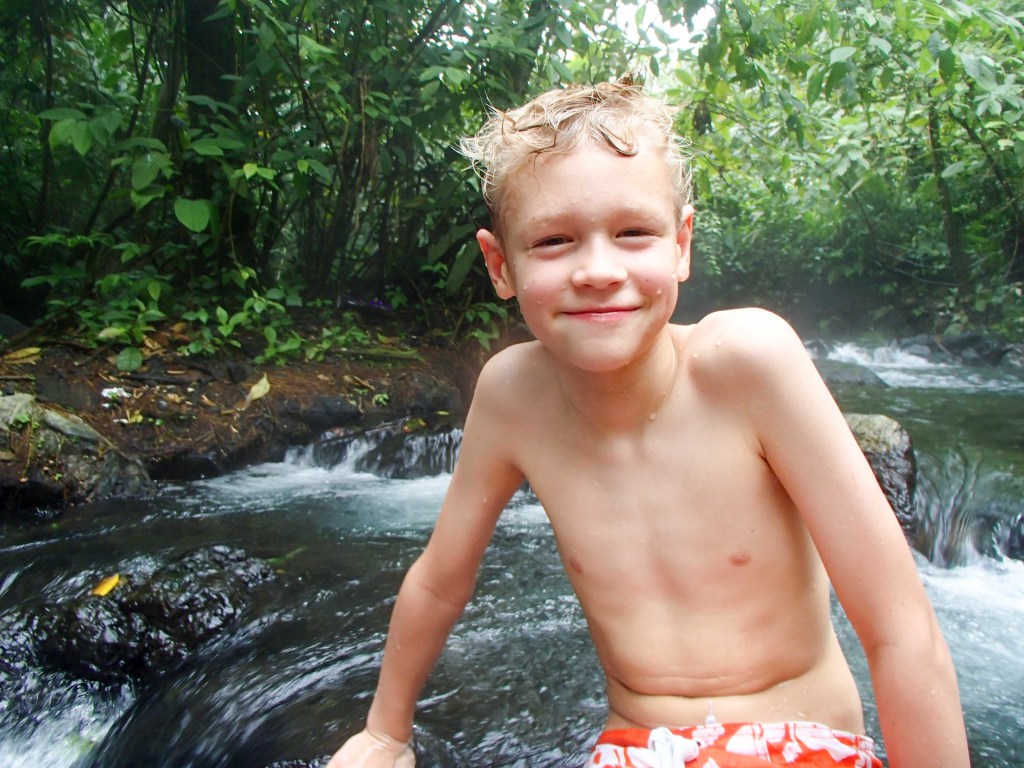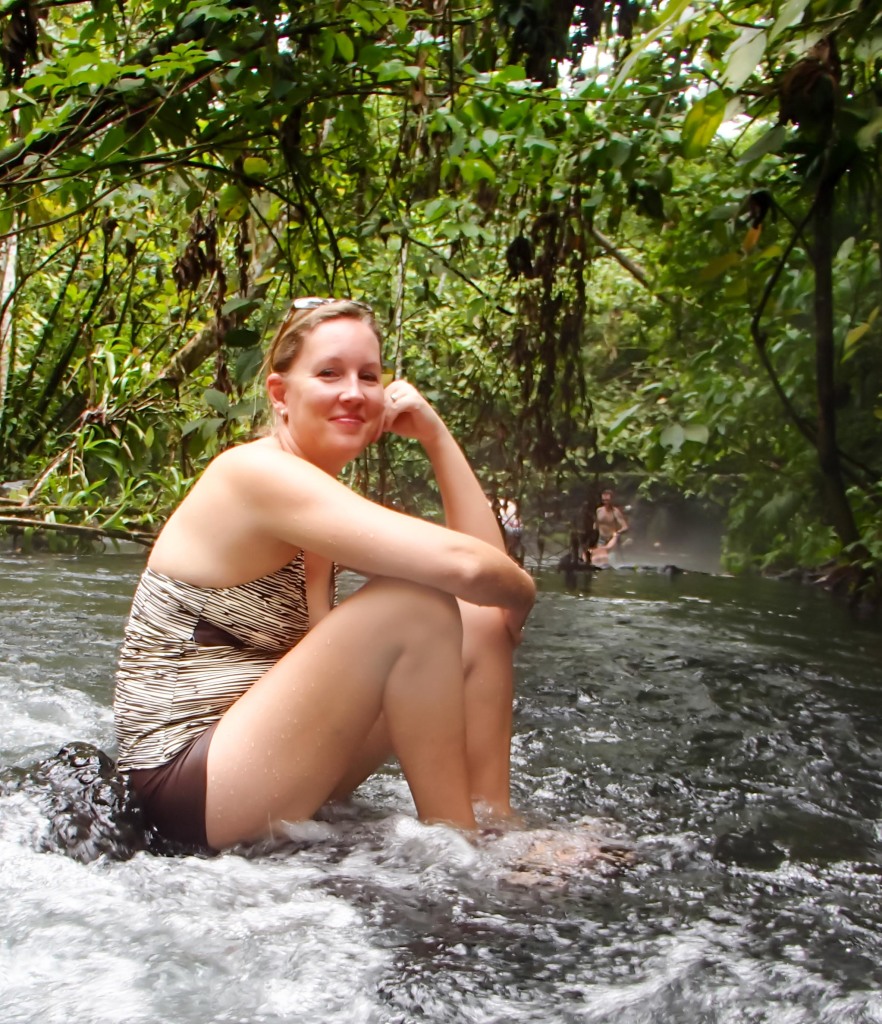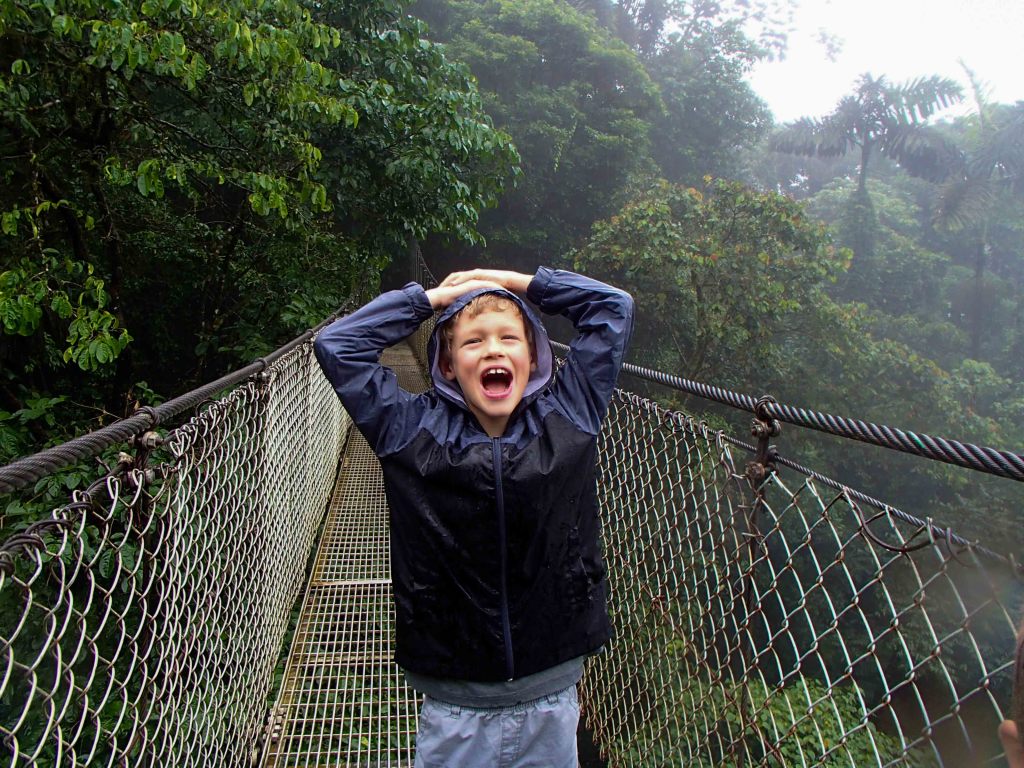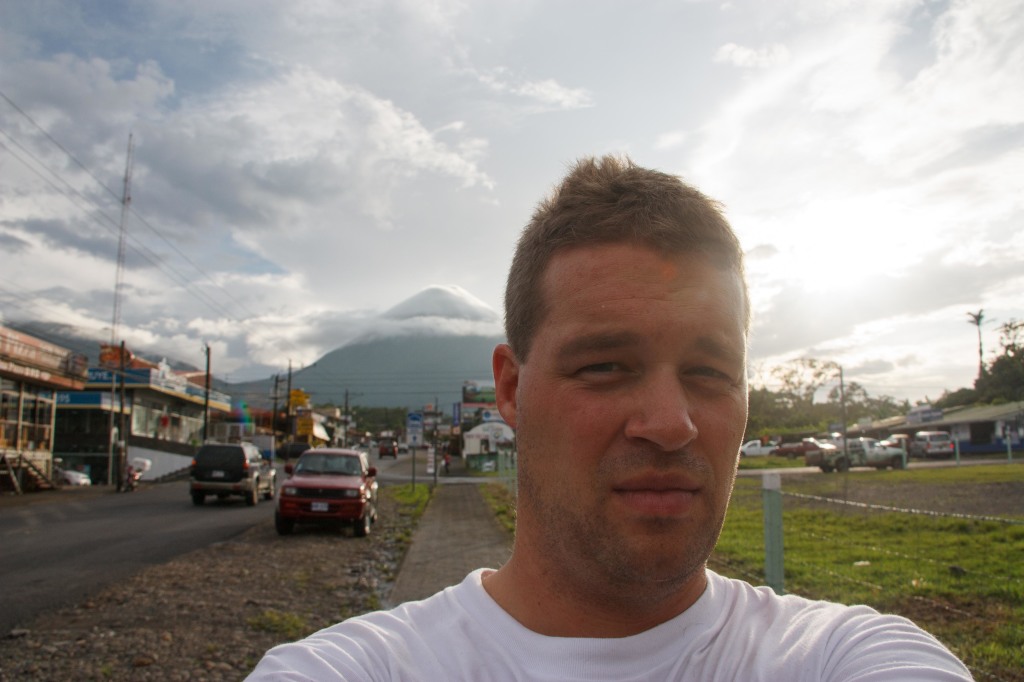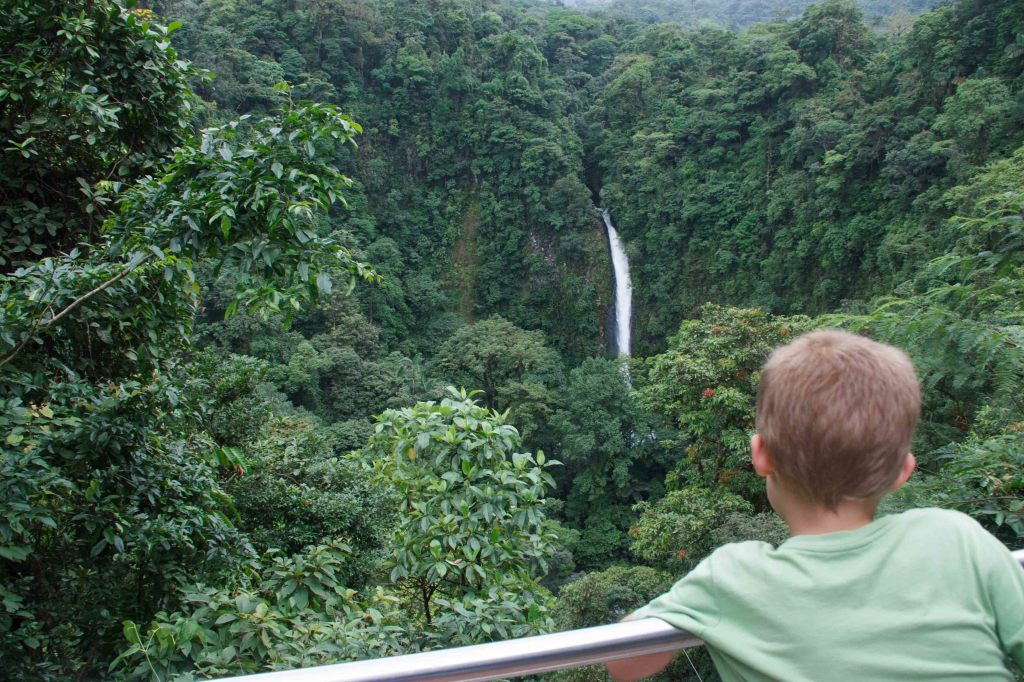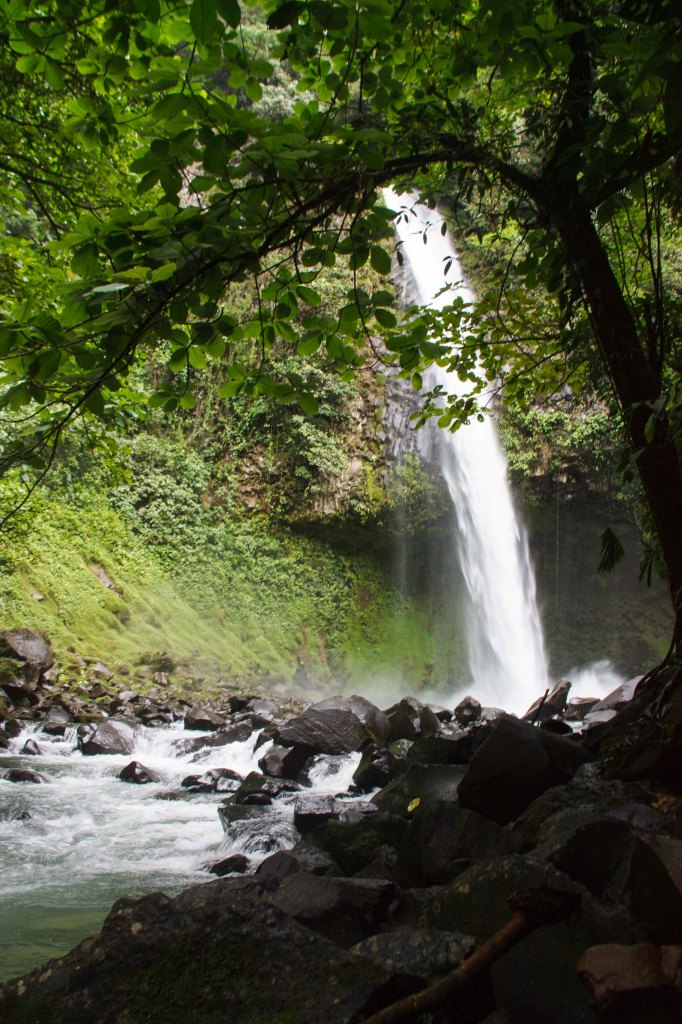 Driving to and from Arenal was an adventure in itself. We rented a Nissan Tiida, which is based on the Versa platform, and it was an awesome car. We were able to fit all of our luggage plus a week of food in the trunk and the boys had a ton of leg room in the back. It was like they designed a compact car and then threw in an extra 12 inches of legroom for the back seat without making the car wider. In a word… AWESOME! I'll rent a Tiida every time I can find one! We used Google maps to find our way to Arenal and on the way there it was perfect. The road was basically brand new but very curvy, Ethan and James got a little car sick.
Whenever we are traveling long distances by car we run into some form of construction, usually highway upgrades which are great to see but can be disruptive – there never is a good time for road construction except yesterday. With the construction comes changes in routes and out of date information for Google maps. I decided to take what looked to be a less twisty route from Arenal to Sarchi and then on to San Jose but the nice yellow line was a nearly impassable route. The first half of the trip was okay, but then we hit a massive hill that the car powered out on when we tried to climb it the first time. I had to roll backwards down the hill and try again, revving the engine in 1st to red line (and beyond) all the way up. Also I had to drive on the wrong side to avoid wet pavement and wet leaves, and still we only just made it. The tires slipped at the very top on dry pavement because the road was so steep and all the weight went on the back tires. Everyone was a little nervous/scared but despite the engine revving and tire skidding we weren't really in danger.
There was a alternate route sign but it looked super sketchy and the steep road was brand new, maybe we should have taken the old road because once we made it to the top the road became very narrow, with a few areas that had obviously recently washed out and been "repaired" by scraping up some of the dirt with a backhoe. The Tiida was definitely at or exceeding design capability once the road turned into a gravel road with nice concrete gutters but a rutted, pot hole mess made with pit run (think gravel with rocks that are up to 6" in diameter). We only touched the bottom of the car a few times when a higher rock would get caught between the road and the car but we made it. Needless to say everyone in the car was a little concerned about our route.
Sarchi is famous for being the place where the oxcarts used to ship coffee from the Central Valley to the coast were made. They used to use a water wheel to power all of the saws, drills and lathes that were used to make the carts. As they modernized they kept the old equipment in more or less working condition, which was pretty interesting to see. We got a little lost but ended up following a tour bus to the wood market where the boys spend at least an hour deciding on what souvenir to get from Costa Rica. Initially, the large stuffed toucans and sloths were the top of the list but instead the big boys decided on wood coffee cups, hand painted with toucans, butterflies and other iconic Costa Rican images.  They reasoned that they could use them forever but a "stuffy" has a finite life. I thought that was rather mature of them, don't you?  Ethan stuck with his first choice – a small stuffed sea turtle which he has taken to bed every night since he got it.
The oxcarts are decorated with very intricate designs which historically used to denote which farm the coffee had come from. A portion of the wood items on sale are made and hand painted on site. These artists are pretty amazing as they free hand the designs or create nature scenes while tourists file by and look over their shoulders – don't screw up!
Back in the car for an uneventful trip to San Jose, where the crew went to the hotel and I dropped the car off. The next morning we headed to a mall next door to the hotel to replace the most important possession of the Winkel crew – Leah's pillow which was left in hotel room in Arenal. She was able to find one that was close to the one she lost. Thankfully there is another one in the sea freight which we should get in a couple of months. McDonald's for lunch – McUnifica for Leah, Big Mac for Richard and cheeseburgers and fries for the boys. We did another luggage purge to get down to a wheel-able 10 bags for Europe trains and took the shuttle to the airport.
When you come to Costa Rica, they welcome you with open arms as long as you have a return trip already booked, but to leave you need to pay a departure tax of $29 a head. There where 6 cashiers and they were the most efficient thing we saw in the whole country… I would not be surprised if they are generating $50,000 an hour during peak times. Security was a breeze as we got to check all our extra luggage. A quick hop to Bogota, Colombia and a sprint through the airport to get on our transatlantic plane. The whole plane was full and we were the last ones on board. The plane sat for another 15 minutes while I'm guessing most of our luggage made the trip to the plane then we left for a 9.5 hour flight. Leah and I were in front of the boys in an exit row. Each seat had a great entertainment system so we watched TV until we couldn't keep our eyes open. The boys all slept at least 5 hours each.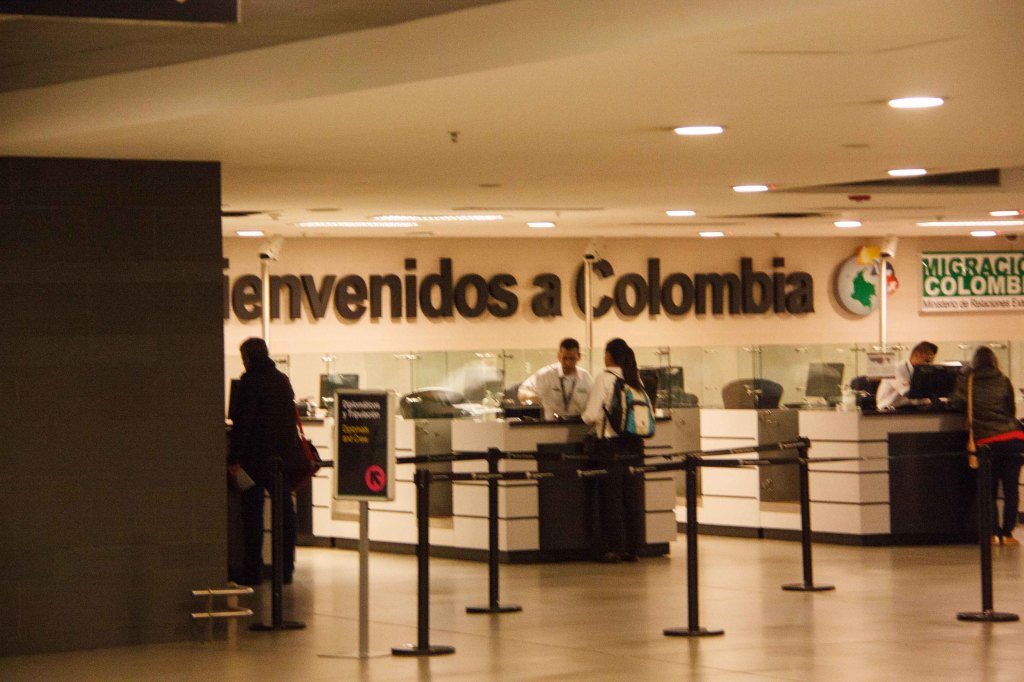 See ya Colombia, we made it to Madrid, Spain!  The adventure continues!