This was our third time to Paris and it didn't disappoint and getting there via the chunnel was much nicer than getting there with an airplane.

Except for Mike who had to take a different train than us because he remembered leaving something in the hotel room about halfway to the train station and had to go back.  By the time he made back to the train station he was unable to join us though mostly because the workers would help him jump to the front of the line.  He made it and we had a fun night at the Monkey pizza place.
Our first few days were rainy so when it was clear we would venture out. When it wasn't we would have lunch though we had to stop at Monoprix for 9 umbrellas. We walked to both Notre Dame and the Louvre but were thwarted by long lines. Buy your tickets in advance next time Richard!
Our longest walking day was from the apartments to the Lourve, Musee d'Orsay and then Grand Palias about half of it in the rain. The Grand Palias is home to the best science museum I've been to with lots of interactive displays, but also lectures and live experiments which combine humor and fact – though it was all in French. The exhibits are well done with lots of hands on stuff and at least half of them with english options. A great site. They had a whole room dedicated to pi – and they lectured for 10 minutes on it at least – unfortunately it was french. Awesome. Lunch was good at the Le Victory and our train ride home uneventful.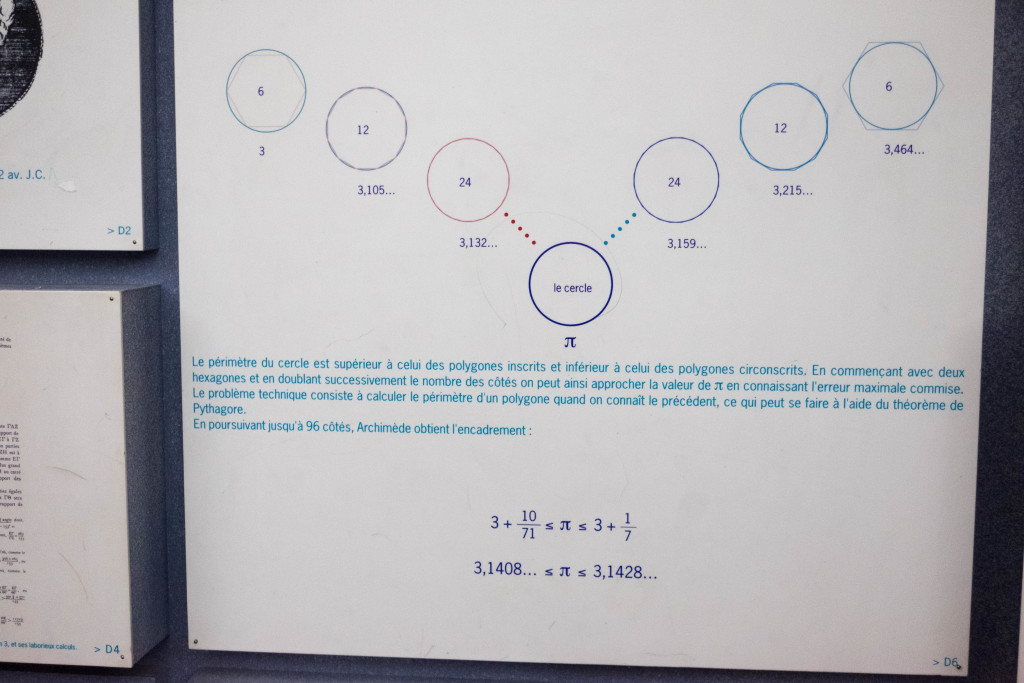 The rest of the week the weather was great so we could explore with ease. Our first stop was the Canal Saint Martin. Mike had asked my why I liked Paris so much and initially I didn't have an answer. Where had been in Paris so far had been very touristy and busy. The Canal is less a tourist area, the sun was shining and it was the "right" amount of busy – enough people to look at but not have to wrestle to get anywhere. All around us were the classic Parisian houses, the french people loving, talking and relaxing – every shifting energy of humanity on a backdrop stately steadiness of the city. I think I feel this way about a large part of the country I've been too, everything seems built to last but is alive because of the people who use it.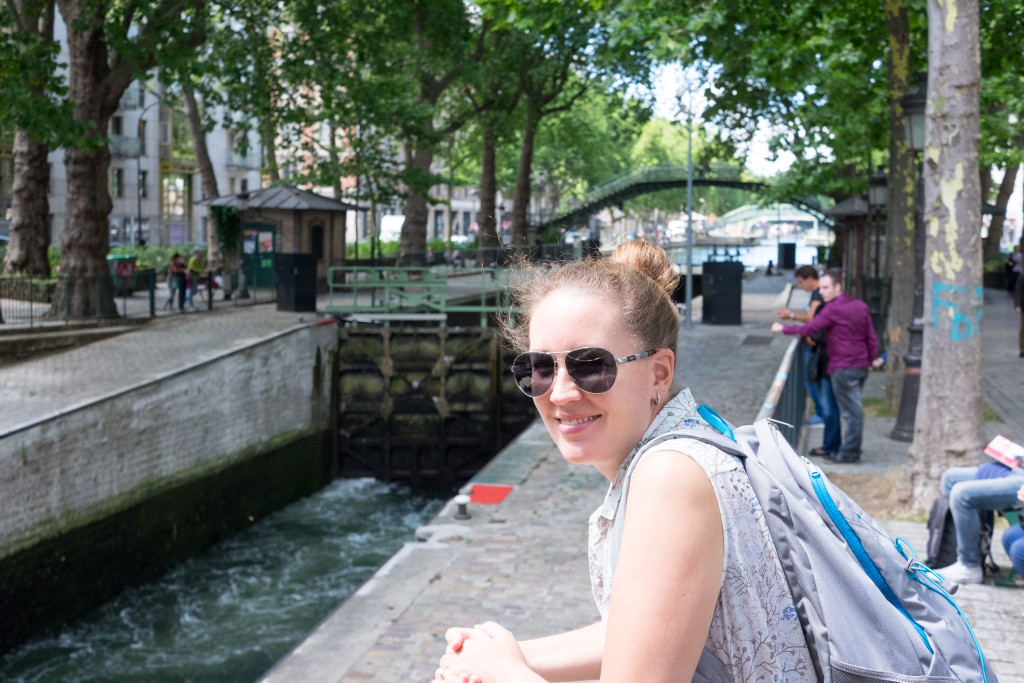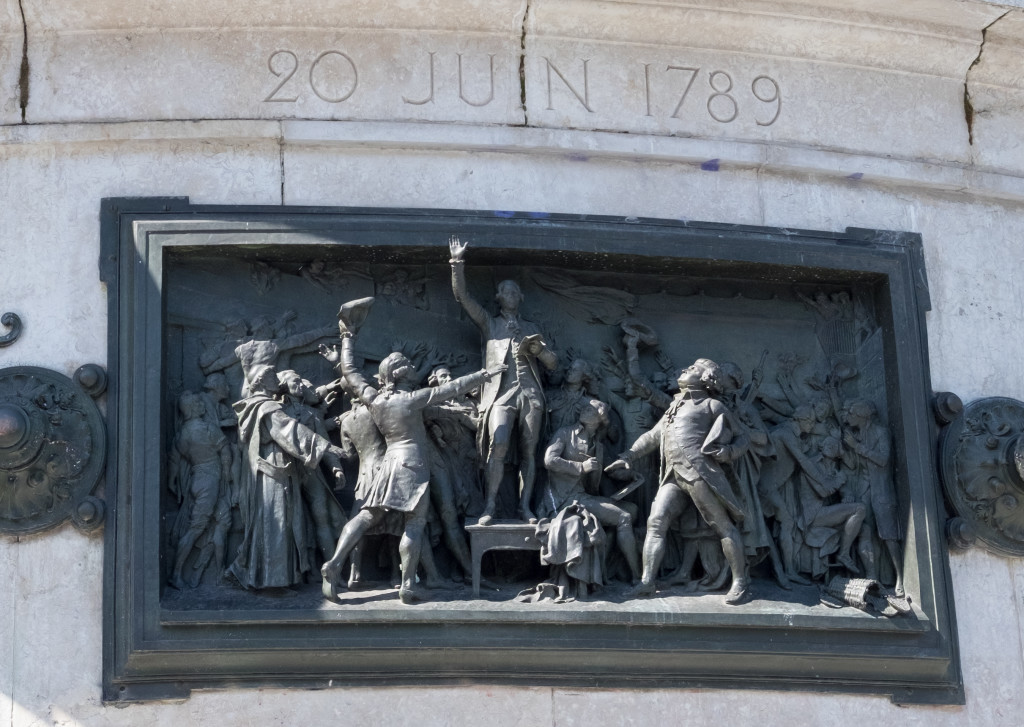 Our favorite day in Rome was biking day so we booked another biking trip, this time the gardens of Versailles. We took a commuter train out of the city and bought lunch at a local market. Then it was biking time, Ethan rode on a tandem bike trailer with me same as in Rome. Initially he cried but was pretty pumped that he could win most of the bike races that the kids would have. The gardens are pretty big, we rode 12 km through the course of the day but it was mainly flat and low key. Lunch was delightful on a big grass area at the far end of the grand canal. Cheese, ham, baguettes, jam and cherries. Fanastique!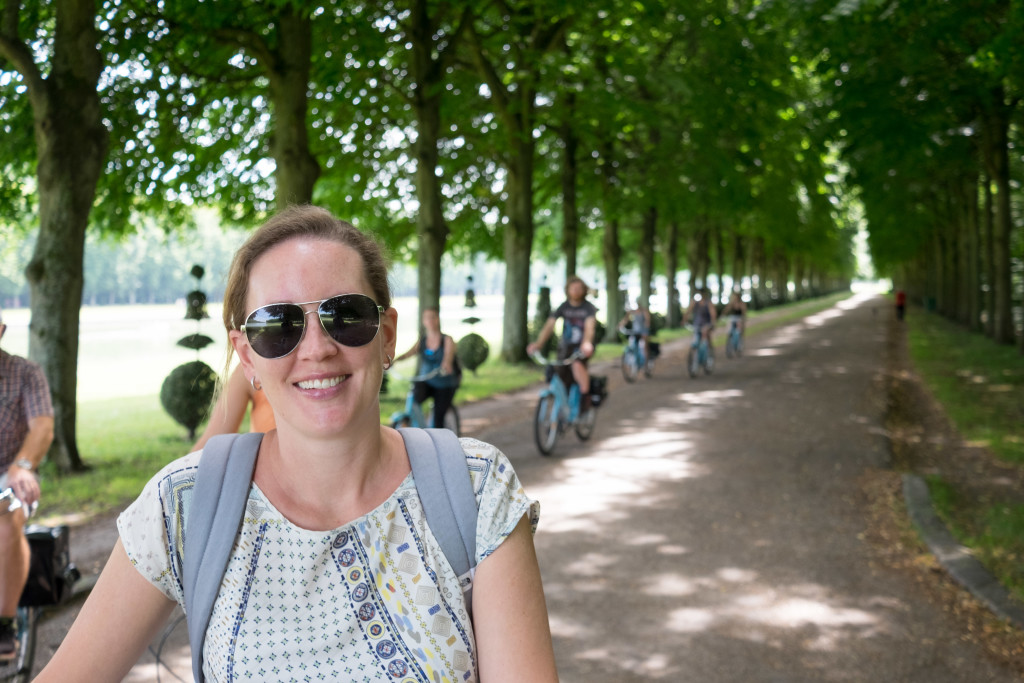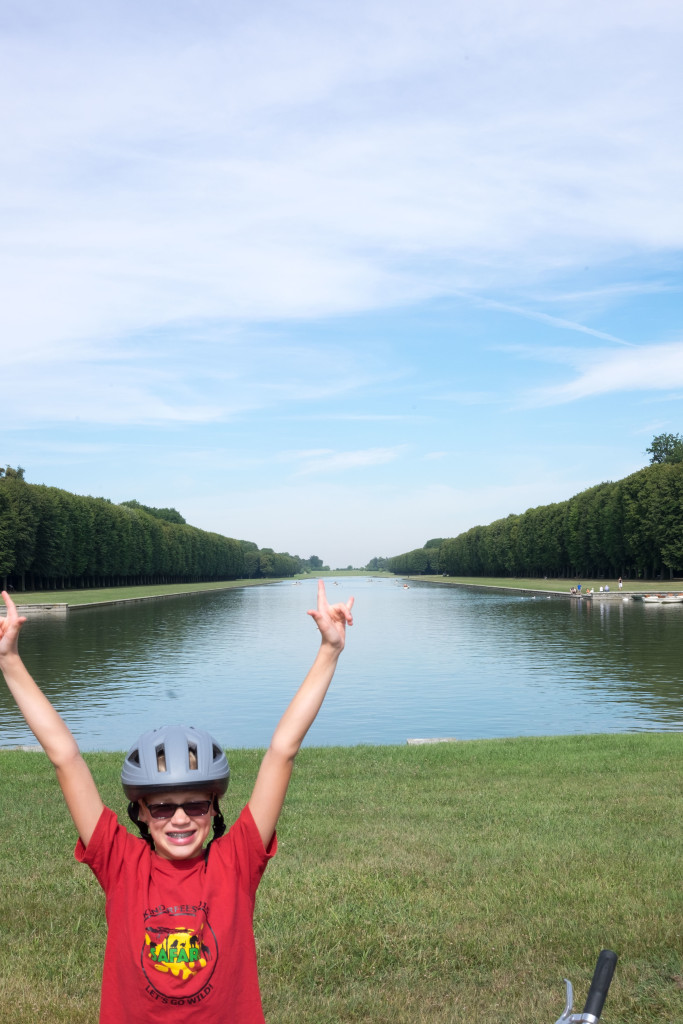 The grounds of Versailles actually has three different residences on it, one for the royal family to get away from court, one that was built for the royal mistress and later was used by Marie Antoinette and the main palace for about 2000 members of the nobility. Our guide explained that Versailles was a way for the king to exert influence over the nobility by holding a large part of them as quasi hostages in the gilded cage of Versailles. Nearly every minute of every day the King and his family were scheduled. All through the day the king was on display; from when he woke up to when he went to sleep. All of these occasions were a way to show the nobility their king and to show favors by increasing or decreasing access to him. For the king and family it was likely not a fun way to live but it was probably cheaper to keep control of the nobility by wining and dining them then by fighting civil wars with them.
A trip to Paris must include a stop at Eiffel Tower – we walked up to the second level then rode to the top this time. Only one child got misplaced on the tower for 5 minutes and the view of Paris was great again. While on the tower we saw Sacre-Coeur which is a large cathedral on a hill and we put that in our minds as an option to visit. Even though there were thousands of people around we managed to the find out own quiet-ish corner of the park for lunch. Lunch was simple but tasty in the view of the tower. The kids played hide-and-seek-tag for about 1 hour then the adults got to play find Eli in his awesome hiding spot for 10 minutes before we headed home. While looking Jen and I both found the girl in the red dress… we had differing opposite opinions on her attire 😉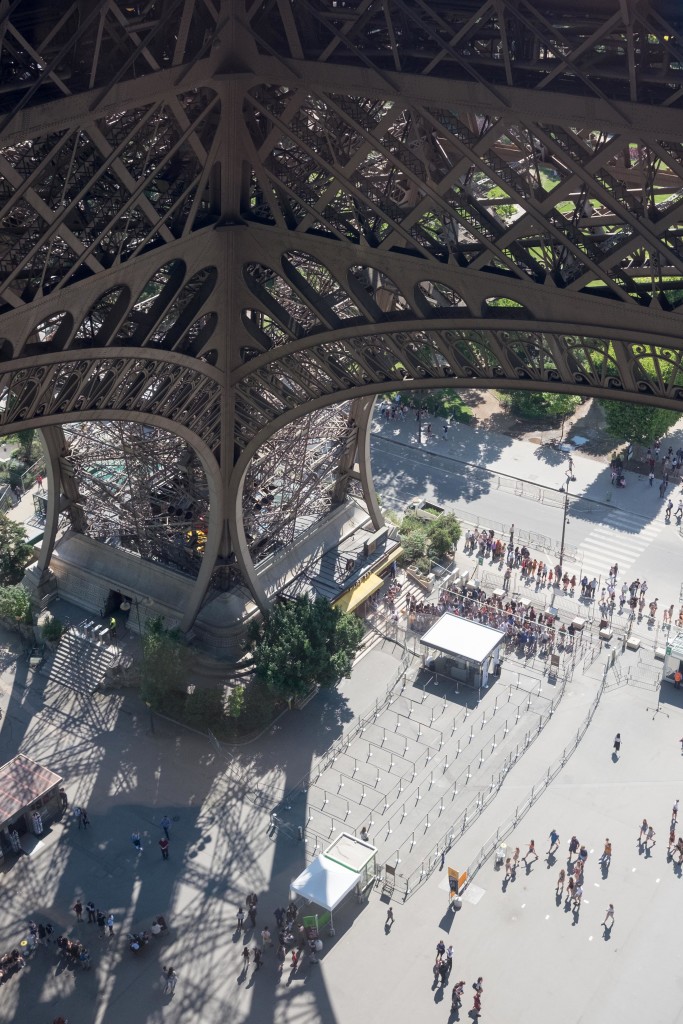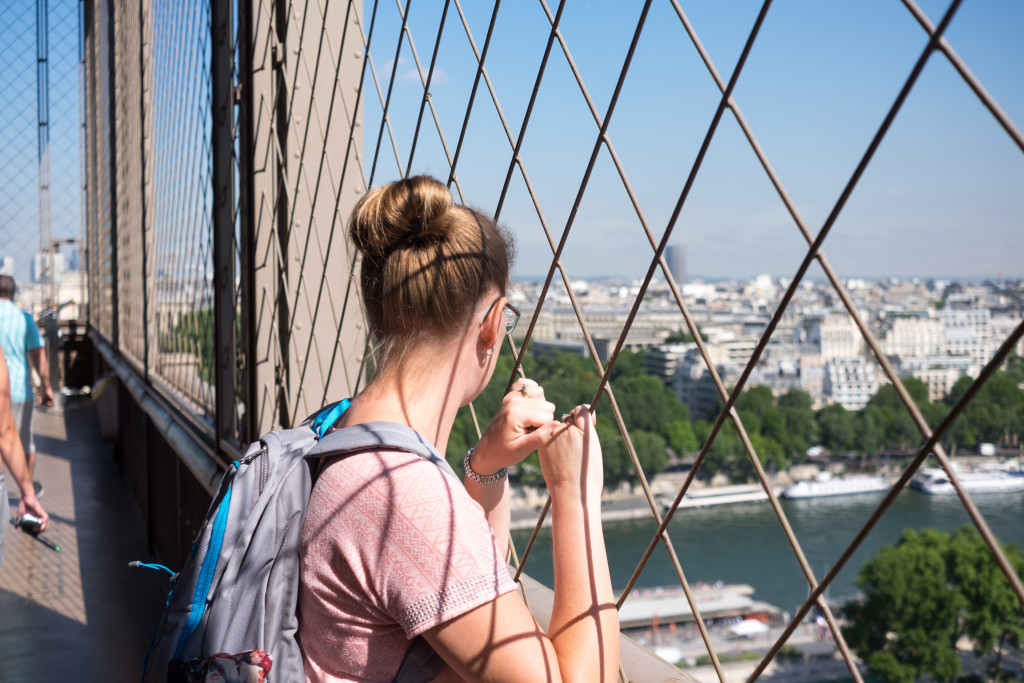 Our favorite thing about European cities is the parcs, some which have playgrounds and some which don't. Parc du Floral has one of the best playgrounds we've ever seen. The kids enjoyed it again and we had a semi-fancy French food for lunch in the parc. It was excellent!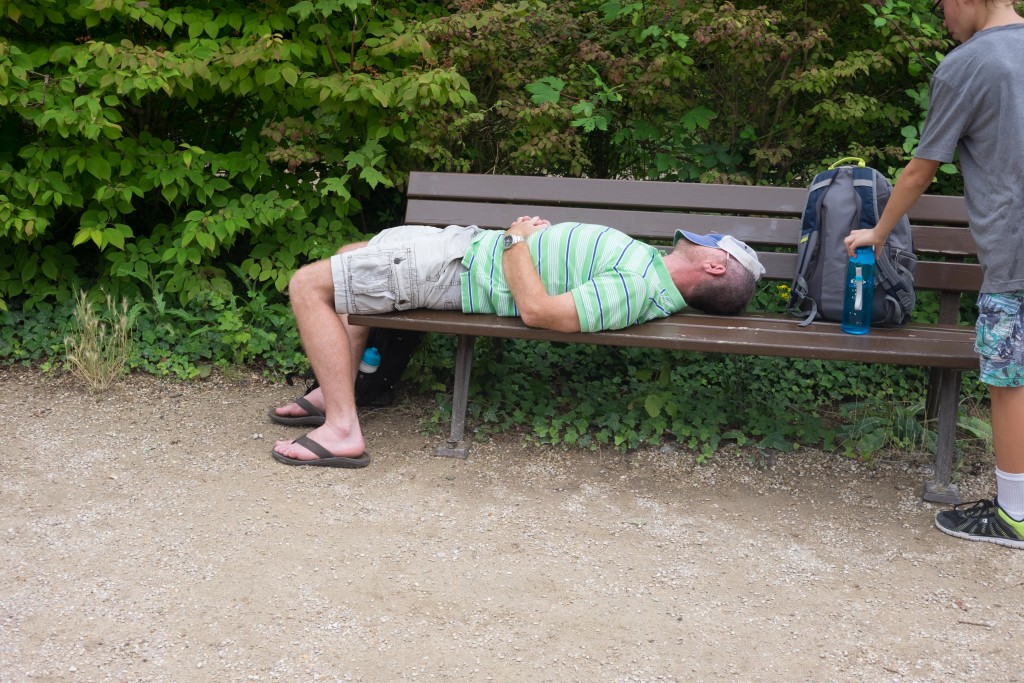 Leah had some kind of 24 hour flu, so we took the kids to Sacre-Coeur where three guys tried to pickpocket me by distracting me with a bracelet. I said no quickly but he grabbed me to try and stop me; but I was ready and continued to move on. Mike told me later that these three guys are in the warnings for the site, they grab your wrist, trap you by wrapping a few pieces of thread around your wrist which they then tie. As soon as it is tied they demand money and if you aren't careful you might pay more then you intend. The cathedral is a working cathedral and we got to hear some of the singing for a mass which echoed eerily through the vaulted ceiling of the building. Usually in a cathedral every alcove, wall and dome is covered with iconography but here they ran out of money before they finished covering everything so most of the cathedral is bare stone. For me, this makes the place more solemn and adds by simplicity – not distracting from the purpose of the building – a place where people and God can meet.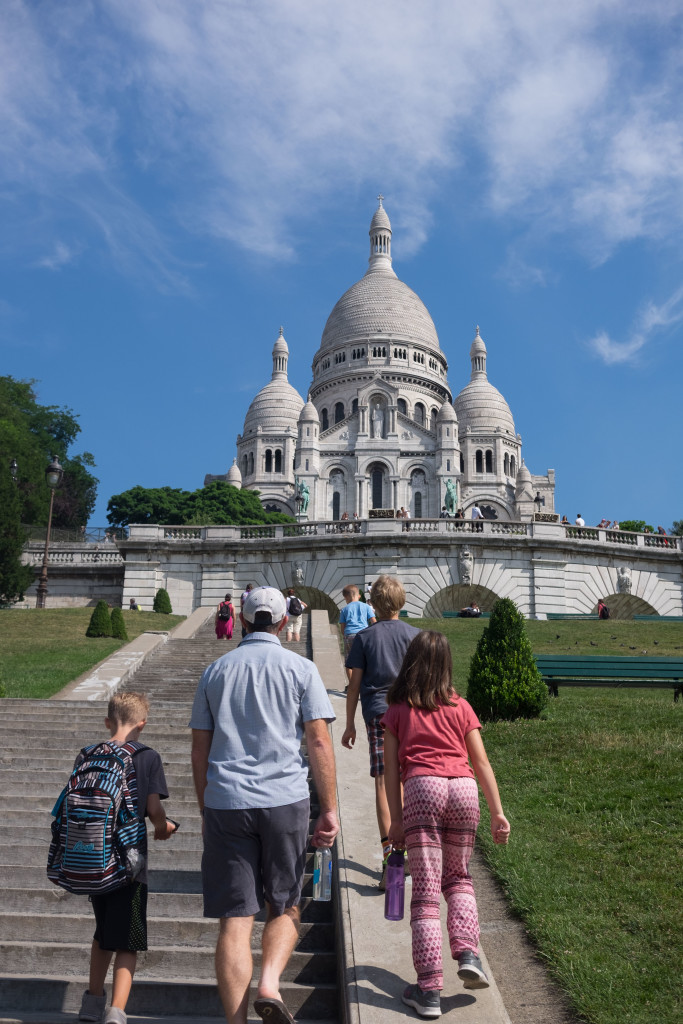 On the way out we discovered that we could climb to the top of the dome, not one to turn down stairs up we went. Most of the way is a spiral staircase which seems to never end as you spin round and round not seeing how far you've gone or how far you have to go; You can only see the next 15 steps, the one you are on, the next 7 or the last 7 you just climbed. You almost get dizzy but not quite. Soon you come out on top and get to see over the entire city in all directions. Worth the climb.
The kids chatter constantly through out our trip and for poor Eva sometimes it gets a little too boy-ish. Usually she takes a break, sometimes she decks James (he always deserves it) and sometimes an adult (me) chimes in… fill in the names for one such interchange on the way down from the dome…
"That's how girls shake their butts when they walk"
"grrr"
"No that's how boys shake their butts when they are trying to walk like girls"
"haha"
It's like this all the time, it is fun, funny and tiring but they are having fun and learning and entertaining themselves. All part of growing up/being a kid.
Our two weeks with the Anderson's was up and it was time to say see you later. Everyone packed, hugged, discussed logistics of getting to the airport/RV and then we waved goodbye. A great Ankel Adventure!